Azure Mosaics
Contact: Beverley Bacon
Counties: Hampshire, West Sussex, Cornwall, East Sussex, Devon, Dorset, Somerset, Surrey
Contact Number: 07845292236
Product Types
Glass & Mosaic, Craft Supplies, Art & Design, Garden & Outdoors, Home Decor, Ceramics and Pottery
Company Overview
Hi I have always loved arts and crafts and fell upon Mosaics which I soon be came addicted to ! So being recently retired and missing working I thought what a better way to start a shop than with something you love to do so Azure Mosaics was invented ! If you have never tried Mosaics before please give it a try, I find it so relaxing and brings great joy in the end product. I sell many different Mosaic kits for adults and children to enjoy especially in these days at the moment when we are all at home so please do contact me and put your artistic side to work !! I also take commissions which you will find under my Garden Arts. Thank you for looking and I hope you enjoy the Mosaic world as much as me. Beverley.
Address
Azure Mosaics
45 Spring Vale,
Waterlooville
Hants
PO8 9DB
Products & Services
I provide Mosaic Kits for Beginners and serious crafters alike. Animals, Coasters, Place Mats, Rainbows ,Flowers and many more !
I make Garden Art and can take commissions for any colours of choice. I create Garden Shards, Sun Catchers of all shapes that twinkle in the Sunshine...yes it is coming I promise !!
My colourful Bird Baths have been a great success this year, providing them all over the world which has been very exciting for me. Feel free to message me with any colour you may like !!
Company Profile
Hi, My name is Beverley I have three gorgeous grown up daughters and 3 grandchildren whom I am very close to and out of lockdown spend as much time as i can with them all.
I am semi retired and all of my working life I have been artistic, working in the hotel and wedding industry for many years. My brides always needed those extra decorations which i loved to help with !
I have also have a passion for Gardening and the outdoors, hence, my ideas of creating pretty pieces to look at whilst relaxing in the Garden .
Please feel free to contact me i am open to any new ideas and to help others .
New Products
Hello Lovely Crafters I have now added my new Christmas range of Mosaic kits that the children love to do for their forever Decoration ! I have also made House Number Plaques that make great Christmas presents . Please do contact me for more info. Beverley

Azure Mosaics are attending:
Not attending any listed events.
Products for Sale by Azure Mosaics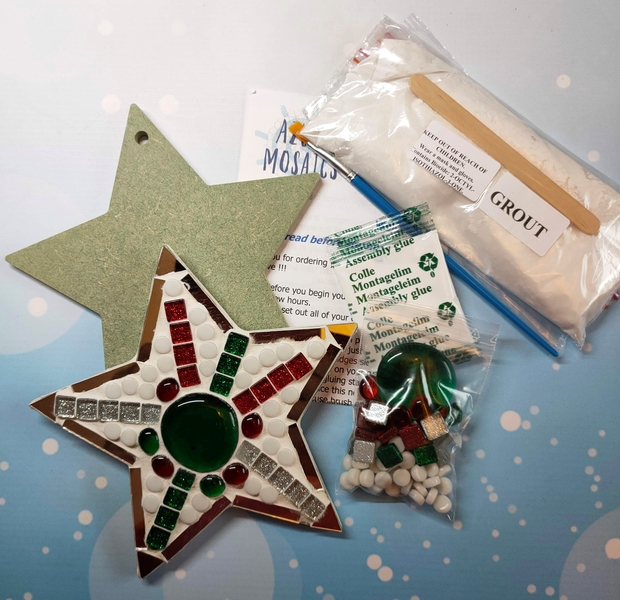 Azure Mosaics Kits
Price: £10.00
Delivery: £3.50
Delivery & Returns Policy
My Mosaic Kits come complete with everything you would need to create your own kit. Shape, PVA glue, grout, brush and full step by step instructions. I have many options including animals, flowers, coasters, and much more. I have just added my new Christmas..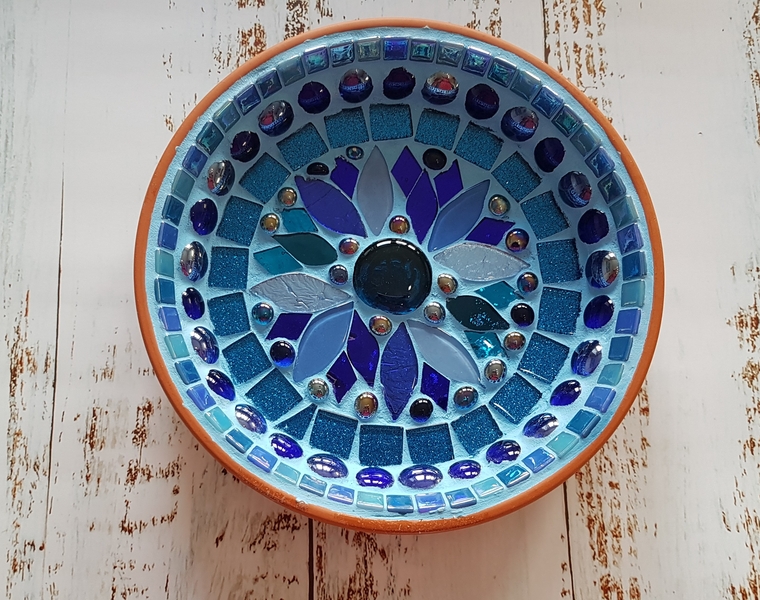 Mosaic Bird Baths
Price: £50.00
Delivery: £7.50
Delivery & Returns Policy
Beautiful Mosaic Bird Bath that the Birds and Bees will love ! The birds will love splashing around in this glittering Bird Bath. Handmade by me, this bath is made from terracotta, tile and glass. The mosaic is finished with a tinted waterproof..