Akasha Artisan
Contact: Lynn Leggat
Counties: Greater Manchester, Cheshire, Lancashire, Merseyside
Contact Number: 07711270164
Product Types
Home Decor, Woodcraft & Metalwork, Art & Design, Decopatch
Company Overview
Based in Manchester, we are committed to using recycled materials as much as possible to make our coat racks, wall hooks, jewellery holders and artworks.
Akasha Artisan was a natural progression for us after Ashlie and I worked on creative projects together while we were Directors of a social enterprise. The social enterprise's work was passed on to a local steering group and we were looking for something else to do. We enjoyed making things together so we set up Akasha Artisan.
We are a new company but both Ashlie and I bring a wealth of business, marketing and digital experience to it. We have dabbled in craft markets before but only in a small way so we are on a learning curve. As well as learning about the crafting world, we are experimenting with our products.
Working with recycled materials is challenging and that's part of the fun. We have a supply of scaffold boards, coat hangers and canvases so that's where we have started - it doesn't mean that's where we'll end up as we'll adapt and change as we grow to understand our market.
Our aim is to bring beautiful, and sometimes functional, artworks into people's homes without putting any more stress on the planet than we have to. We want a small environmental footprint and want to show people how to reuse things rather than throw them away (when we've got all our techniques down pat that is).
As we learn, we'll share our skills with other people, helping the reuse, mend and repair movement to grow.
Products & Services
We offer a range of different artistic products made from recycled materials such as wood, metal, glass, coat hangers, small tables and chairs and other small items. We paint, decoupage, stain and varnish these items depending on how they speak to us.
As we grow we aim to make videos and write articles detailing how we have transformed different items and we hope to develop some creative courses once we feel confident about our ability to deliver them.
Company Profile
Lynn - In terms of the work I have done in the past, I have a background in community development and project management but I have always had a creative streak. My father was a builder until he retired and so is my husband so I think hammers and nails are in my blood. I enjoy working with wood and seeing the grain appear out of a dirty and dusty piece of scaffold board. I have two children and six grandchildren. Two of my grandchildren love to help me with sanding and painting.
Ashlie - In terms of work, I have a background in the charity sector and in grant management and marketing. My mother is an artist and I have always enjoyed painting so it was a natural step for me to start doing this for a living. I am a qualified florist and enjoy bringing out the colour and shape of different flowers in my paintings. I have three children, three grandchildren and one on the way so they keep me busy when I'm not working on Akasha Artisan.
Akasha Artisan are attending:
Not attending any listed events.
Products for Sale by Akasha Artisan

Pink Floral Coat Rack with Two Door Knobs
Price: £10.00
Delivery: £3.45
Delivery & Returns Policy
This coat rack is hand painted in large, pink flowers on a recycled scaffold board using acrylic paints. It is finished with two Fair Trade door knobs for hanging coats, scarves, dog leads, aprons, utensils, walking sticks, umbrellas, jewellery and lots..
Man Cave Sign on Recycled Wood
Price: £9.99
Delivery: £7.38
Delivery & Returns Policy
This man cave sign is made from a cut down recycled scaffold board. It is handpainted in acrylic paint with a picture of a boot. The boot represents the hard work Dad's do, whether paid work or working to fix, mend, make and repair things. Dimensions..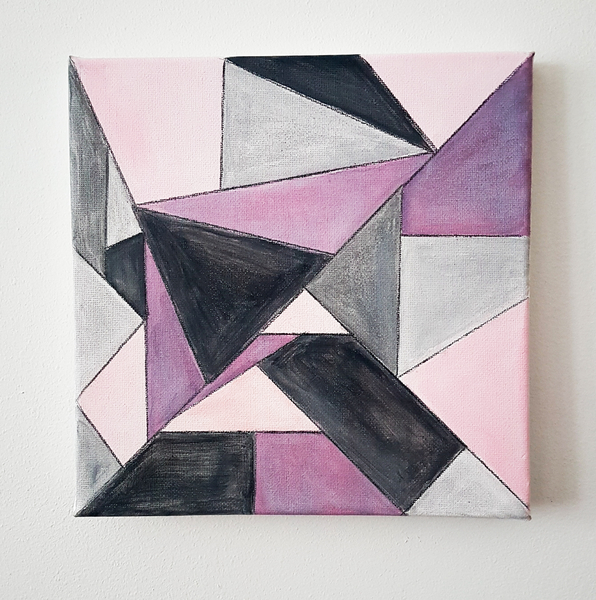 Abstract Art in Pink, Purple and Grey
Price: £6.99
Delivery: £1.40
Delivery & Returns Policy
A small, original abstract artwork that features a trendy geometric design in pink, purple and grey. The artwork is painted on a canvas frame and is hand painted in watercolours. This artwork's contemporary colours and style will bring colour and a..