Pheroma
Contact: Callie Fontain
Counties: Oxfordshire
Contact Number: 07762118215
Product Types
Bath & Body
Company Overview
Over recent years I have been increasingly concerned about the damaging chemicals and additives used in household cleaners, body care products, and processed foods and I personally do my utmost to avoid them. I wanted to do my small part to help others avoid these harmfull additives tool and so I started Pheroma in September 2017 with the initial aim to produce and supply body care products. For my range of products, I only source ingredients from trusted suppliers, who either hold a Soil Certificate or who are ethical in their businesses and procedures. I also use herbs and flowers from my own garden.
Products & Services
My body care products are vegetarian and vegan friendly. Each item is hand made by me to ensure optimum freshness and quality for you. Using 100% natural oils, herbs and flowers which are highly beneficial for your skin. My ingredients are naturally occurring plant based with no added artificial flavours, perfumes, colours, parebems, non fatty alcohols & preservatives. All of which can weaken, irritate and damage the skin. All of my products are not only good for you, they do not add anything artificial to the environment.
I adhere to strict hygiene standards. All of the equipment, containers and utensils are sterilised before each and every creation, to ensure complete safety for you. However, as with all externally applied body care product, test a small area of skin first to make sure you have no allergies to the ingredients.
From order, I usually post products on the same day, unless ordered at the weekend. Because my body care products are for personal use, I cannot accept returns for refund.
Company Profile
There's nothing more I love than making, trying out and learning about new natural home and body products and remedies, it has been a life-long passion for me. My products have been very well received by all who use them and I have always had a positive feedback.
I am a mother and grandmother and my products are used by my family as I only want the best for them and to protect them from the chemical based world we live in. I am a great believer in natural products being a greater part of all our lives and I hope to expand my product range over the coming years. Please support me where you can!
Sale
I love designing and preparing body care blends that are tailored to your requirements and preferences. Please let me know how you would like your body care product to support your healing and well being. You can choose a different cold pressed carrier oil, salt or aromatherapy blend and I will be happy to make something especially for you. Please take a look at easy.uk/pheroma/shop Thank you

Pheroma are attending:
Not attending any listed events.
Products for Sale by Pheroma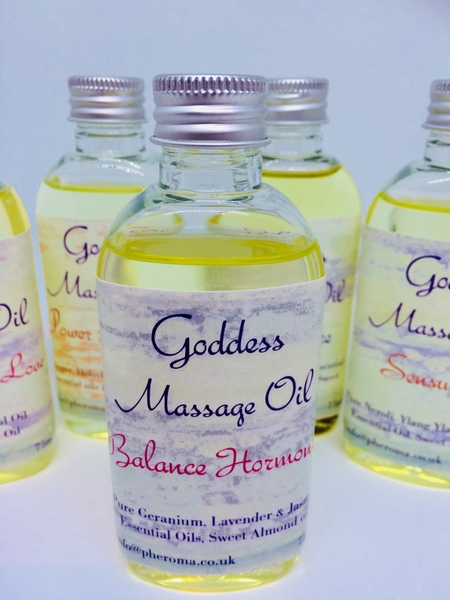 Goddess Oils
Price: £3.50
Delivery: £1.50
Delivery & Returns Policy
There are five different massage Goddess Oils to choose, from Abundance - Sensuality - Power & Passion - Balance Hormones & Unconditional Love - Enriched with natures pure essential oils and soothing sweet almond oil, these aromatic formulas soaks..
Bath Tea bags
Price: £4.00
Delivery: £1.00
Delivery & Returns Policy
Enhance your bathing experience with Bath Tea Bags, a quirky alternative to bath salts which look attractive and keep all of its contents contained tidily without the mess, all in an un-bleached bio degradable muslin bag. There are four different gorgeous..
Rianbow Bath Salts
Price: £2.00
Delivery: £1.00
Delivery & Returns Policy
Rainbow one shot salts. These one shot rainbow bath salts, are quite simply fun in a reusable tube. Benefit from the amazing properties of natural dead sea salts, using natural mica mineral colours. Great for party bags/favours. I sell larger test tube..