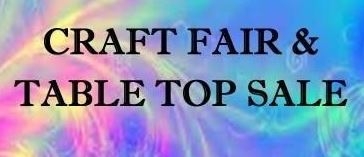 Ideal Stallholders for this event
Antiques & Furniture
Art & Design
Baby and Children Gifts and Services
Bath & Body
Beauty
Books
Cakes & Baked Goods
Candles and Wax Melts
Cards & Gift Wrap
Ceramics and Pottery
Chocolate & Confectionary
Clothing and Shoes
Craft Supplies
Cross Stitch & Tapestry
Decopatch
Dolls Houses & Miniatures
Embroidery
Fabric Items
Floristry & Floral Arrangements
Garden & Outdoors
Gifts
Glass & Mosaic
Handbags and Accessories
Handmade & Handcrafted
Jams, Chutney & Preserves
Jewellery
Knitting and Crochet
Leather
Needle Felt & Textile Art
Papercraft
Personalised & Customised Gifts
Photography
Polymer & Fimo Clay
Preloved
Recycled, Ethical, Fair Trade & Organic
Seasonal/Special Occasion
Shabby Chic
Sock Animals, Teddy Bears & Dolls
Toys and Games
Vintage
Woodcraft & Metalwork

Friday Craft Fair and Table Top Sale Christchurch
Date:
13/08/2021
Venue:
Druitt Hall
Address:
Christchurch High Street
Christchurch
Dorset
BH23 1AJ

| | |
| --- | --- |
| Event Organiser: | Jane Martin |
| Organiser Contact: | Wendy |
| Contact Number: | 07763219464 |
| Number of Stalls: | 12+ |
Customer Arrival Time: 10:30
Customer Departure Time: 14:30
Admission Price: £0.00
Stallholder Arrival Time: 09:30
Stallholder Departure Time: 15:00
Cost of Stall: £7.00
Event Type
Antique & Collectors Fairs
Book Sales
Car Boot & Table Top Sales
Craft Fairs
Fairs
Fundraising Events
Markets
Nearly-New Sales
Vintage Fairs
Event Details
A selection of stalls selling handmade goods and bric-a-brac including knitted and textile items, clothing, jewellery, cards, CDs and DVDs, toys, books, potions and cakes.
Free entry, dogs welcome.
Sorry no refreshments available at the current time.
druitthall.org.uk
Car Parking Information
Car parking is in the Wick Lane car park adjacent to the Druitt Gardens. Car parking charges apply. Goods can be carried or wheeled across from the car park to the hall via path through Druitt Gardens.