With An Annual Premium So Low Can You Really Ignore The Risk Of Not Having Stallholder Insurance?
'We Can Provide A Quotation And Even Arrange Cover Online 24 Hours A Day, 7 Days A Week, So If You Have Forgotten To Sort Out Cover And You Are About To Go To An Event Help Is At Hand!'
Nationwide | 09.05.2015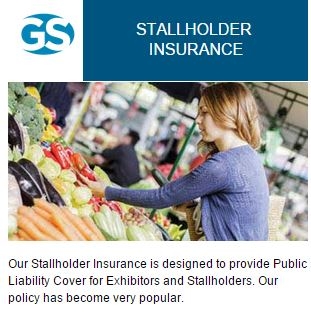 We, here at Graham Sykes Insurance, have a wealth of experience in providing bespoke specialist insurance to stallholders and have created an insurance policy specifically with your needs in mind.
There are five great reasons to consider taking out our Stallholder Insurance:

Premiums from as low as £40.00 (+ small policy fee);

Products Indemnity* Included with Public Liability**;

It's quick and easy to purchase online;

Electronic documents are issued which are easily forwarded to Organisers;

Cover is available for both Indoor and Outdoor Events.
*Products Indemnity Insurance helps cover you against claims that your products have caused injury, damage or even death.
**Public liability insurance helps protect you against the financial risk of being found liable to a third party for death or injury, loss or damage of property, and even economic loss resulting from your alleged negligence.
We can provide a quotation and even arrange cover online 24 hours a day, 7 days a week, so if you have forgotten to sort out cover and you are about to go to an event help is at hand!
Why not just allow us to provide you with a quotation for you to consider and don't worry because if you have any queries or concerns we are always delighted to provide help and assistance.
www.graham-sykes.co.uk Telephone – 01395 255 100 Email – Events@graham-sykes.co.uk


Search In the Spotlight
View By Category
View By Date