Update : Job Opportunities - Event Managers & Event Helpers - Mynt Image
Mynt Image - Exciting Details Below For Job Opportunities In The South Of England
Nationwide | 27.01.2015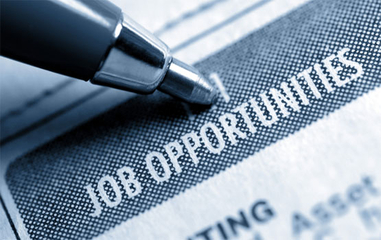 Originally, Mynt Image was a small stallholder business selling personalised badges, bottle openers, key rings and such like. We ran our stall across various events in Hampshire for about 3 years until we were given the opportunity to start running some events of our own.
Starting with the Salisbury Guildhall we set the bar high achieving superb footfalls throughout the year. From here we have expanded to cover 16 locations across 9 Counties.
2015 will see Mynt Image run over 160 Craft and Gift Markets with each one as successful as the last, each venue we use has to meet a very specific criteria including being in the heart of bustling town/city with a large passing trade and perfect access for customers to enter for FREE and hopefully purchase our stallholders products.
As we take the south by storm we are looking to expand, we are already one of the largest companies of this type and we have no intention of stopping here. We want to slowly cover the entire of the UK whilst keeping the same high quality events and customer service that we have been accolade for over the past few years. To make this happen we are looking to build enthusiastic teams across each County who can run these events with us.
We are looking for both Event Managers and Event Helpers to Work at our Venues in 2015 and 2016 as we Continue to Grow.
· Event Managers run our events at many locations throughout the South of England. These are motivated individuals and many have a craft stall holder background. Your own car is essential.
· Event Helpers help our managers run events. These positions would suit both students, retired people or those looking to earn some additional money.
Minimum age of 18. Applicants for either job work on a self-employed basis. Dates are flexible with staff working as many dates as they wish during the year. The more dates that are worked, the more that is earned. Please note that we do not allow our staff to run stalls at events which they are working at as a manager or helper.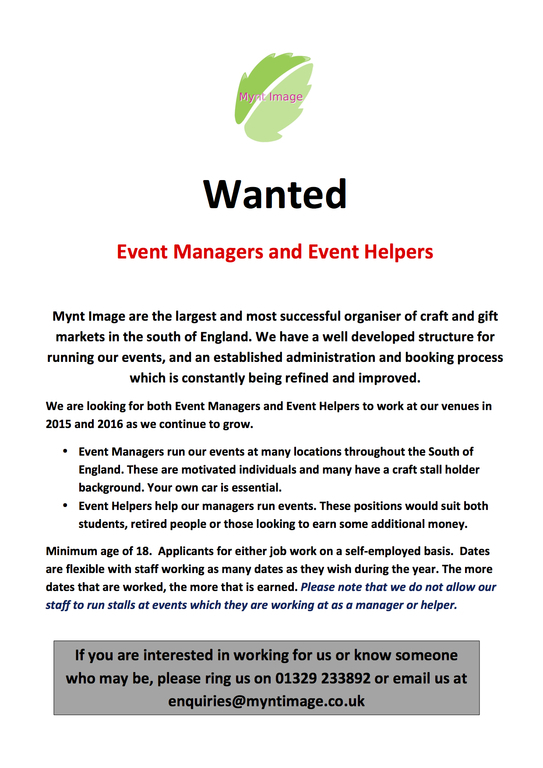 If you are interested in working for us or know someone who may be, please ring us on 01329 233892 or email us at enquiries@myntimage.co.uk
Nationwide Event Listings, Online Craft And Gift Fair, Stallholder Directory, News, Interviews And More.
To Find An Event Click Here
To Find A Stallholder Click Here
To View Our Online Craft & Gift Market 'The Marketplace' Click Here
Search In the Spotlight
View By Category
View By Date