The Great 3-In-1 Spring Show New Festival For The North West Promises, Food & Family Fun For May Bank Holiday
'Features Include The Great British Outdoors Show, Foodfest Northwest And Charityfest Northwest Music Festival'
North West | 23.02.2017
INTRODUCING – THE GREAT 3-IN-1 SPRING SHOW NEW FESTIVAL FOR THE NORTH WEST PROMISES MUSIC, FOOD & FAMILY FUN FOR MAY BANK HOLIDAY WEEKEND
Saturday 27th To Monday 29th May 2017 At The Royal Cheshire County Showground
The Great 3-in-1 Spring Show features The Great British Outdoors Show, FoodFest NorthWest and CharityFest NorthWest Music Festival fundraising for 3 great charities plus recently added Sky-Fest.
The Great 3-in-1 Spring Show takes place Saturday 27th to Monday 29th May 2017 at the Royal Cheshire County Showground. Adjacent to Junction 19 on M6, the Show's location makes it easily accessible from Greater Manchester, Warrington, Crewe and nearby towns of Knutsford, Northwich, Altrincham, Wilmslow and Winsford.
Aimed squarely at families with its 'Kids Go Free' strapline there will be Adventure Attractions, over 100 creative crafters and artisans, craft & food demonstrations by prominent chefs.
There are, in fact, four elements to the Show The Great British Outdoors celebrates outdoor lifestyle including motorhomes, caravans, camping, wildlife, sports fitness and outdoor hobbies.
FoodFest NorthWest revolves around the World Street Food Court with freshly prepared Italian pizza, Malaysian rending & satay, Chinese dumplings, Mediterranian mezze, French crepes, Spanish paella, USA hot-dogs, Texas BBQ, Mexican burritos & tacos, Indian curries and even English Hog Roast and healthy wraps washed down by Real Ale, Prosecco or Pimms vendors – the perfect accompaniment to an exciting music programme.
CharityFest NorthWest celebrates local musical legends and hit-makers giving their talent to raise funds for three worthy charities Cancer Research UK, British Kidney Patients Association and Help Musicians. Acts booked so far include Brian & Michael/ Matchstalk Men (No1 hit Matchstalk Cats & Dogs), Dougie James Soul Train, George Borowski, The Clik, rising Soul sensation Babalola, Northern Soul star Johnny Pryers, brilliant solo acts Rebecca Whitehead and January Butler, electro-loopers Sound of Thieves, Motown crowd-pleasers Soulvation plus more artistes to be announced.
The newly added fourth element is Sky-Fest – a celebration of flight featuring a spectacular giant kite display including the famous Peter Powell Stunt Kite family who will also give kite workshops, drone & model aircraft demonstrations and a Birds-of-Prey display will take place in a central arena.
Daily admission is £10 and £20 for a 3 day ticket with camping at £30 it creates a Family Weekend mini-break for £70 – Mum, Dad & 2 kids (free) in their own tent.-
Organiser Steve Foley of Vimvit Ltd explains 'I want to create an affordable and wholesome event with elements of wonder and edutainment - Music, Food, Crafts & Family Fun'
Tickets are on sale from the website www.TheGreatSpringShow.com or via Skiddle Ltd
For more info and trader / exhibitor enquiries contact The Great Spring Show organiser Steve Foley of Vimvit Ltd 0757 200 2724 steve@steve-foley.com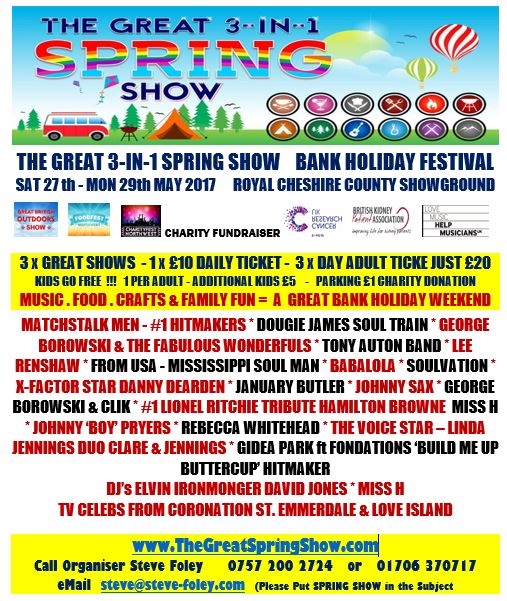 Search In the Spotlight
View By Category
View By Date