The Dundee Christmas Fair 2017 4th - 23rd December, Dundee City Square
'We Look Forward To Returning 4 - 23 December With A Wonderful Range Of Gifts From Across Scotland And From Around The World'
Dundee | 28.09.2017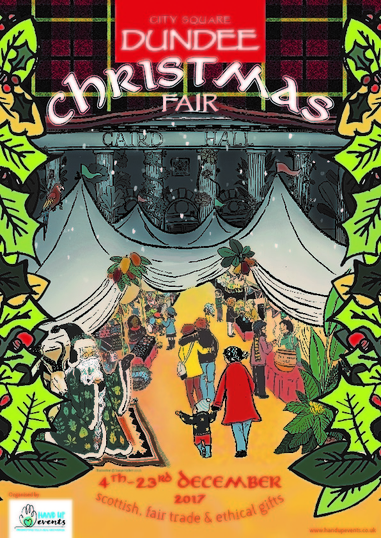 This event in it's eleventh year is taking place in Dundee City Square in a warm, carpeted and decorated marquee in the centre of Dundee, in Dundee City Square from 4 - 23 December.
With an abundance of Scottish, local, fair trade ethical gifts, a unique shopping experience unparalleled in the UK, with exhibitors from right across Scotland and as far India, Peru, Kenya and Zambia. With a great range of exhibitors that include: Eden Mill Gin, The White Goose Restaurant, Gecko Galleries, Scottish Wildlife Trust, Braw Taste, Damn Fine Cheese, Kilted Fudge Company, Pieroth Wines, Eclectic Shock, Isobel Jewellery Design, Vybrid, After the Rain, Blue Lama Shop, Dorostel International, Sanyo Crafts, RSPB, The Woodland Trust, Me to You, Lumina Jewellery, Celtic Hart, ACTSA, Clootie Dumpling, Fair Trade Scotland............ and many more
Dundee is a fantastic Christmas
shopping destination and with the Overgate Shopping Centre just seconds away and the High Street filled with great shops, this event provides shoppers with an even greater choice of Christmas gifts.
Also don't forget to check out dates of visits from Santa who will be in his Grotto and available for visits!
The opening hours 10am - 6pm, 11am - 5pm Sunday and we are located in Dundee City Square.
Gifts - Handmade & Handcrafted Scottish - Recycled, Ethical, Fair Trade & Organic - Food And Drinks & A Cafe Area - Kids Craft Activities - Seasonal/Festive
Hand Up Events is an Edinburgh based
social action
events company that creates positive cultural exchange events; concerts, markets, fashion shows, conferences and festivals..... our biggest area of work is platforming and supporting fair & ethical trade, providing high footfall locations that attract exhibitors from right across the globe to attend.
We are connected with international exhibitors across the globe and seek to continue developing these lifelong relationships. We also platform quality Scottish shopping events and markets. With a lot of help from a lot of great and amazing people, we can make a lot of great things happen.....
Search In the Spotlight
View By Category
View By Date