The Bishop's Palace Garden Festival 2015 -With Special Guest Alan Titchmarsh MBE - Somerset
Join Us From 20th - 24th June For This Celebration Of The Great British Garden!
Somerset | 06.05.2015
The Bishop's Palace Garden Festival 2015- 20th - 24th June - With special guest Alan Titchmarsh MBE!
Join us from 20th - 24th June for this celebration of The Great British Garden!
Featuring tours, talks, demos and workshops from experts and VIP's; rare plants, garden essentials, market stalls, games and family fun.
From sheds to shears and fountains to flowers, come and find the inspiration you need to glam up your garden!
We can now reveal that the Festival will be opened by Alan Titchmarsh MBE, who this year, celebrates 50 years of working in horticulture. Alan will be with us from 10am on 20th June and will be holding an "Ask Alan" question and answer session at 11am and will also be planting a tree in the gardens.
The fourteen acres of the Palace gardens and grounds will be filled with a range of exhibitors, demonstrations, talks, stalls and refreshments. Rare & Specialist Plant suppliers will be selling a colourful selection of their wares around the Croquet Lawn, and the Village Green on the South Lawn will feature retro refreshments, gardening tools & equipment, craft demonstrations, music and food – a place to meet, mingle and peruse the stalls – you are sure to find a treasure whether it's a trowel, tea or a tune!
Throughout the rest of the Festival we will be welcoming some of the top names in UK gardening including Bob Flowerdew, Christine Walkden, Troy Scott-Smith, Stephen Lacey and many more, all of whom will be giving talks and tips.
Sunday 21st July is Family Day at the Garden Festival in association with Mogers Drewett - a fun-filled day celebrating The Great British Garden.
The Palace gardens will be filled with outdoor games, trails, competitions, storytellers, woodland crafts and a bouncy castle!
The Village Green on the South Lawn will offer summer refreshments, craft demonstrations, music and food. Our Portable Garden competition entries will be on display all day and the winners will be announced on the day.
Family Day runs from 10am-6pm and children under 16 enter free of charge. At 6:30pm there will be an outdoor performance of The Secret Garden by Charterhouse Theatre Company (tickets available separately).
Special rates for Groups of 10+ - call 01749 988 111
All visitors wishing to purchase a ticket for a talk must also be in possession of a valid Garden Festival entrance ticket.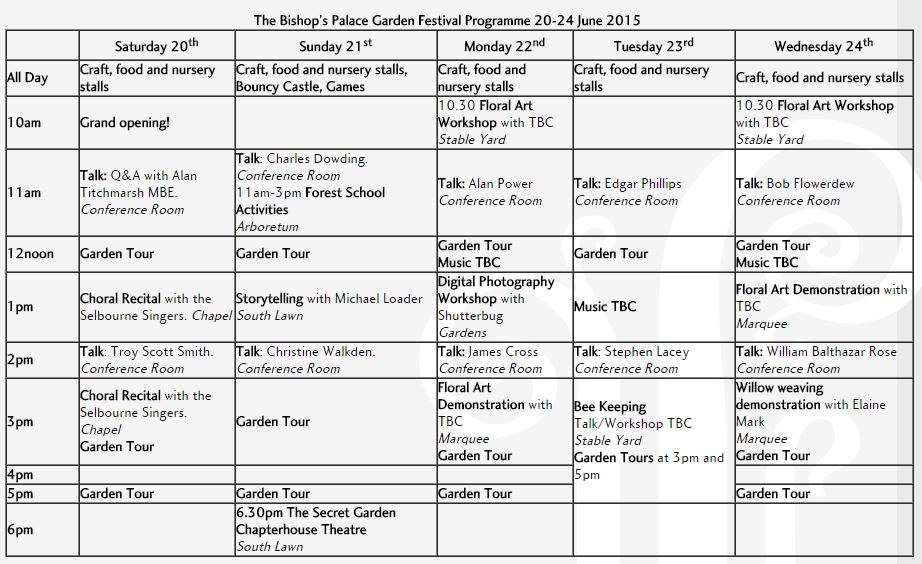 Stall & Craft Collective Is A National Website Which Includes A Nationwide Event Listings, Online Craft And Gift Fair, Stallholder Directory, News, Interviews And More.
To Find An Event Click Here
To Find A Stallholder Click Here
To View Our Online Craft & Gift Market 'The Marketplace' Click Here
Search In the Spotlight
View By Category
View By Date