The Bead Society Of Great Britain - For All Those Who Have An Appreciation Of Beads
'The Society Is Open To All Those Who Have An Appreciation, Either Private Or Professional, Of Beads Ancient And Modern, Of All Shapes, Sizes, Materials And Colours; Their Techniques Of Manufacture, And Their Application'
Nationwide | 18.07.2015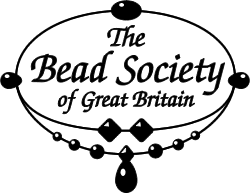 A subscription-based, non-profitmaking, non-commercial venture run by a permanent Team who work voluntarily.
The Society is open to all those who have an appreciation, either private or professional, of beads ancient and modern, of all shapes, sizes, materials and colours; their techniques of manufacture, and their application.
The aim of our Society is to encourage and share knowledge and enjoyment of every type of bead, to improve the accuracy of information and the skills of making, using, caring for and collecting beads, together with the understanding of the many peoples for whom beads are so important in their lives.
The Society publishes a 40 page magazine 3 times a year full of interesting features from around the world. History, Art, making and using modern beads, current trends and beautiful pictures all included.
The Beadwork and Bead Fair, held in October, has beads and supplies from across the globe and across time. Antique and modern all to see at the show.
There are classes that are mostly free to members, classes that are taught by designers from all over the world. In the last few years Diana Fitzgerald, Elsie Mann, Jenny Boyle, Evelyn Cohen, Anna Feher, Heide Jenkins to name but a few..
There are specials that are exclusive to BSofGB that fund the classes, Called the bursary fund, pens and needle cases are colourful, fun and functional.
The subscription for a year is only £12, that is £1 a month.
This gives lots of benefits.. 3 x 40 page magazines full of interesting reads
Free entrance to our bead fair in October,
£1 off entrance for some bead fairs
Free classes with top bead artists.
The website http://www.beadsociety.org.uk/
If you would like to know more about the Society and its activities, click on the name of any of the following team members to contact them via email:-

Carole Morris
Stall & Craft Collective Is A National Website Which Includes A Nationwide Event Listings, Online Craft And Gift Fair, Stallholder Directory, News, Interviews And More.
To Find An Event Click Here
To Find A Stallholder Click Here
To View Our Online Craft & Gift Market 'The Marketplace' Click Here
Search In the Spotlight
View By Category
View By Date