Ten Free Stalls - Witney Jazz In The Park Oxfordshire 8th June 2014
Ten Free Stalls - In Association With Stall & Craft Collective
Oxfordshire | 03.06.2014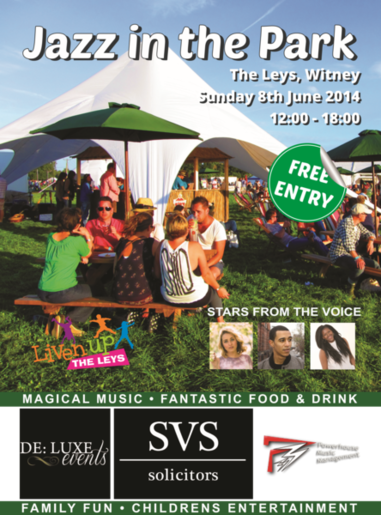 In association with Stall & Craft Collective we have TEN FREE stalls at our high profile Jazz In The Park Event in The Leys - Witney Oxfordshire.
With Stars from BBC1 The Voice performing along with local Jazz Bands this should be an amazing Event.
To celebrate the NEW Stall & Collective website we are offering brands registered to the website a FREE stall at this fantastic event.
We work strictly on a first come first served basis.
Register your interest at www.deluxesports-events.com and hopefully we will see you there!!!!
Stall & Craft Collective Is A National Website Which Includes A Nationwide Event Listings, Online Craft And Gift Fair, Stallholder Directory, News, Interviews And More.
To Find An Event Click Here
To Find A Stallholder Click Here
To View Our Online Craft & Gift Market 'The Marketplace' Click Here
Search In the Spotlight
View By Category
View By Date