Stunning Collection Of Artificial Flowers, With A Twist - Carmel Chameleon
'Origami Flowers Are Unique. They Make A Great Alternative To Ugly, Plastic Looking Artificial Flowers And Something A Bit Different Instead Of Fresh Flowers (That Die In A Week!)'
Nationwide | 01.11.2015
Carmel Chameleon was set up in 2009.Originally selling handmade cards. But in 2013 I made a Kusudama flower bouquet for my Mum for Mother's Day. This was a huge hit so began selling a larger variety of origami paper flowers.
Artificial Flowers, With A Twist!
Origami flowers are unique. They make a great alternative to ugly, plastic looking artificial flowers and something a bit different instead of fresh flowers (that die in a week!)
A Personal Experience Every Time.
I believe people buy from people. Hence why I post more than just business on my blog. I want you to know the person behind the business. Of course I maintain a certain level of professionalism but i also pride myself on being friendly and helpful.
Flowers How YOU Want Them.
I can provide flowers in any colour of your choice, in a variety of paper types. I always use high quality paper, and while i do have standard bouquets I'm always happy to make custom orders.
Wedding Bouquets As Unique As You Are!
Origami flowers make AMAZING wedding bouquets. Something a bit different from the usual bouquets. Made to your specifications. I go out of my way to ensure paper matches your colour scheme and you get what you have in mind. It's your big day and I want you to have EXACTLY what you want. Here is just some of the feedback from previous brides.
"Thank you so much for designing and making my wedding flowers! Your personal service and attention to detail was outstanding."
"Just received my bouquet collection and all I can say is Wow … totally stunning, well made and complete attention to detail! From first chatting to you re my order to seeing it progress to in my hand … customer service is second to none!! I could not be happier"
"Just received my Bridal set of flowers and they are Fantastic… Beautifully made, I can't wait for my wedding now to show them off.
Would highly recommend"
Don't See A Flower You Would Like? Just Ask!
I'm always trying to learn new flowers. So if you don't see one in my current collection just ask and i will do my best to make it.
I Don't Just Make Flowers!
I can make a lot of different origami models. Cranes, Butterflies, Elephants etc! I make small origami lucky stars & bigger pentagon stars. Great for gifts or to decorate venues! I also make a variety of different string lights!
Passion For Arts & Crafts.
I'm a very creative person. I like all sorts of arts & crafts. I have a degree in Multimedia Arts, an interest in animation & film and i love Asian culture! Everything i make i do with passion & love.
I love what I do! And I put my heart and soul into every item. Every order helps pay for bills, days out and much more. Supporting a small business in its early years!
Thank You
Carmel Rimmer
CLICK HERE TO VIEW CARMEL CHAMELEON
Website: www.carmelchameleon.co.uk
Contact Number: 01492621576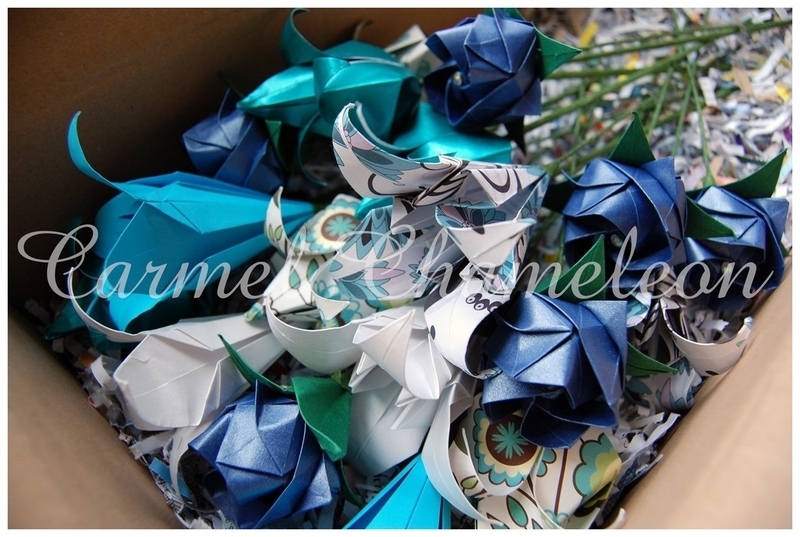 Stall & Craft Collective Is A National Website Which Includes A Nationwide Event Listings, Online Craft And Gift Fair, Stallholder Directory, News, Interviews And More.
To Find An Event Click Here
To Find A Stallholder Click Here
To View Our Online Craft & Gift Market 'The Marketplace' Click Here
Search In the Spotlight
View By Category
View By Date