Stevenage Hertfordshire Easter Egg Hunt Saturday 15th April 2017
'FREE Easter Egg Hunt with guaranteed prized for every child and every adult will be able to take part in FREE prize draw'
Hertfordshire | 28.03.2017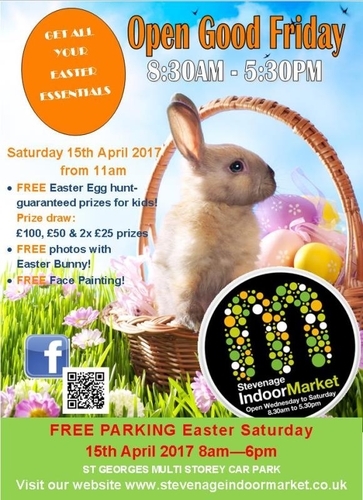 Looking for free activities this half-term? Come down to Stevenage Indoor Market every year we organize free Easter activities for children. This year take advantage of FREE PARKING in Multi Storey Car Park above the Indoor Market between 8am to 6pm - that is only on Easter Saturday 15th April 2017!
Easter 2017 activities include:
FREE Easter Egg Hunt with guaranteed prized for every child and every adult will be able to take part in FREE prize draw:
FREE photos with Easter Bunny!
Spend a lovely afternoon with your family enjoying all free activities and take advantage of the FREE PARKING. If you get tired, thirsty or hungry visit one of our cafés. More information about the Indoor Market and the activities will be available on the day from our promotional stall which is going to be set up in Stevenage town centre opposite Boots.
Remember we are open on Good Friday regular hours 08:30 to 17:30, so you can get all your Easter essentials. For more details about our shops, please visit Traders section:
http://stevenageindoormarket.co.uk/traders/
Also to stay up to date with what is happening in Stevenage Indoor Market, please like our Facebook page:
You will be able to see updates on competitions, new traders and products as well as ask questions.
Search In the Spotlight
View By Category
View By Date