Stallholder Profile - Asylum of Broken Dolls - A Correctional Facility For The Wayward And Weird
'Specialising In The Custom Designed Treatments For Its Doll Patients'
Nationwide | 23.02.2015
Established in 2012, The Asylum of Broken Dolls is a correctional facility for the wayward and weird.
Specialising in the custom designed treatments for its doll patients

Many of our patients have been abandoned into the re-adjustment program, and after rigorous testing, examination and therapy are now ready to be rehabilitated back into society under the supervision of a care giver.

If you believe you are the right person to provide such care to the patient who has been unloved, abandoned and cast aside... swiftly contact The Asylum for Broken Dolls and our physician Dr Chloe Scarlet Delves will be happy to provide a consultation with you to discuss the best match for you and your home.

The Asylum of Broken Dolls creates hand crafted unique, quirky and unusual cloth dolls and plushies, made in part from reclaimed materials making them not only an unique one off collector's item but also environmentally friendly.
We take commissions and have a wide variety of products to suit all tastes including:
18 & 12 inch art dolls
9 inch Glombies
7inch Loonies
4 inch Batlings
Please visit my Stall & Craft Collective page here for more information.
Thank You
Please note. Asylum of Broken Dolls are art dolls and not suitable for children under 16 and should not be used as a toy.
Stall & Craft Collective - Nationwide Event Listings, Online Craft And Gift Fair, Stallholder Directory, News, Interviews And More.
To Find An Event Click Here
To Find A Stallholder Click Here
To View Our Online Craft & Gift Market 'The Marketplace' Click Here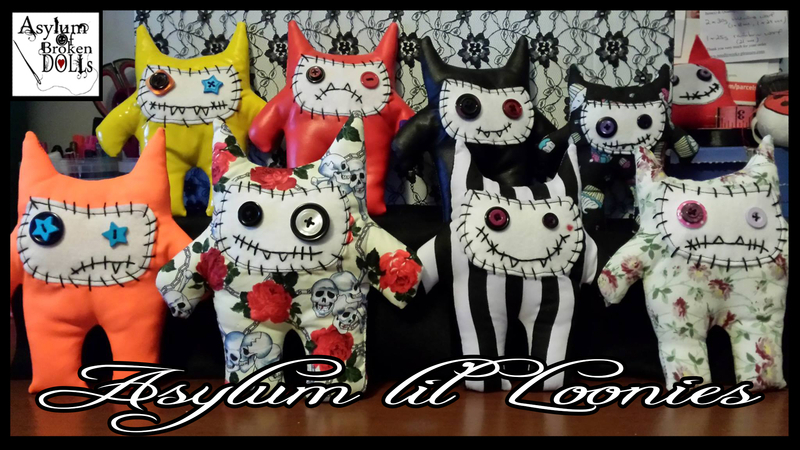 Search In the Spotlight
View By Category
View By Date