St Elizabeth's Summer Fayre 30/6/18 - Much Hadham Hertfordshire - Stallholders Required
'If You Are Interested In Booking A Stall For This Event, Please Contact Us'
Hertfordshire | 09.03.2018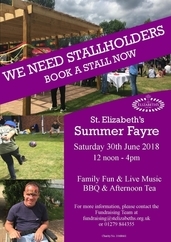 St Elizabeth's Summer Fayre
Established in 1903, and located in Much Hadham, Hertfordshire. St Elizabeths is the only national charity committed to providing high quality education, leisure and health care to children and adults of all ages with complex neurological conditions and learning disabilities.
Book your stall now for St Elizabeths Summer Fayre as plots are limited this year!
You will be allocated an area outside, 6x4 ft. A donation of £20.00 is required to secure your stall.
The St Elizabeths Summer Fayre is one of the biggest local summer events of the year, with around 500 attendees enjoying a range of activities, stalls, foods, and fun.
If you are able to donate any further voluntary assistance on the day or bake a cake for our cake stall please do let us know, your support of this fundraising event is very much appreciated.
Your fundraising contribution of a stall booking fee will go towards a range of projects which we are currently raising money for and we are therefore very grateful to you for your support.
A residential school for up to 80 pupils aged 5-19.
A college for up to 40 learners aged
18-25 attending our pioneering three year independence programme.
A village of bungalow accommodation for 105 adult residents aged 18 and over.
Day activities for over 130 adult residents, college learners and day clients providing more than 40 on and off site learning and leisure pursuits.
A five bed respite suite for people requiring short-term specialist care breaks.
By providing our residents with specialist support that meets their individual needs, we help them live safely and happily, and remove any barriers to living their lives to the fullest.
If you are interested in booking a stall for this event, please contact us and you will receive a stall booking form to be completed and returned by the 15th of June.
Organiser Contact:

Sam Prow
Contact Number:

01279855355
Search In the Spotlight
View By Category
View By Date