Southdowns Folk Festival - West Sussex - Preparations Gather Pace
'Preparations Are Now Well Under Way For What Promises To Be The Biggest And Most Exciting Southdowns Folk Festival In `Sunniest` Bognor Regis Between 25 And 27 September'
Sussex | 06.07.2015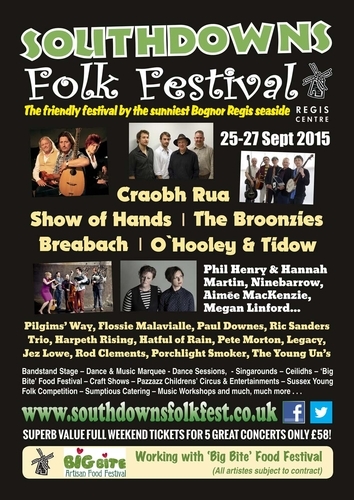 SOUTHDOWNS FOLK FESTIVAL PREPARATIONS GATHER PACE
Southdowns Folk Festival in `Sunniest` Bognor Regis between 25 and 27 September.
Hotham Park
Hotham Way
Bognor Regis
West Sussex
PO21 1HR
Besides some of the very top headliners on the folk, roots and acoustic scene ( SHOW OF HANDS, BREABACH, CRAOB RUA, THE BROONZIES, RIC SANDERS GROUP, THE YOUNG`UNS, PHIL HENRY & HANNAH MARTIN and many more . . . ), there will be a plethora of great stalls and traders, excellent music, brilliant childrens` entertainments, sumptuous food and catering, the Southdowns Food Fayre, all in Hotham Park, plus an expanded dance programme in the Park and around the Town, and new this year, `BOB` - `Buskers of Bognor`! Watch out for more details.
All events in the Town Centre and Hotham Park are free and tickets for the five stunning afternoon and evening concerts in the Alexandra Theatre are just £58 for all weekend, or £19 ( evening ) and £12 ( afternoon ).
Building on the success of last year and again kindly supported by Butlins ( Bognor Regis ), the Festival will be staging the very popular `Sussex Young Folk Competition` on the Bandstand Stage in Hotham Park on Saturday Morning 26 September.
The competition is open to all young ( 10-21 ) and up and coming folk, roots and acoustic musicians who play any instrument, sing and do either original material or song/tune covers. There are still a few places left for potential entrants with a maximum of 9 performers.
Also for 2015, the Festival have launched an exciting `crowd funding` initiative where people can pledge online using Paypal as little as £1 to help fund three days of great music, dance, entertainments and many other fascinating attractions.
More information on how to get tickets, the Sussex Young Folk Competition and The Festival Crowd Funding scheme can be very easily got to visiting www.southdownsfolkfest.co.uk and following the relevant links and pages.
You can also call the Festival Hotline on 01243 820187.
More info at: 07751 594285 / rnash10@hotmail.com
Thank You
Stall & Craft Collective Is A National Website Which Includes A Nationwide Event Listings, Online Craft And Gift Fair, Stallholder Directory, News, Interviews And More.
To Find An Event Click Here
To Find A Stallholder Click Here
To View Our Online Craft & Gift Market 'The Marketplace' Click Here
Search In the Spotlight
View By Category
View By Date