Royal Troon Golf Open 2016 - Troon Craft, Gifts & Goodies Fayre 14-16 July 2016
' There Was Still An Unfulfilled Potential From Local Home Based Crafters And Businesses.'
Ayrshire | 27.05.2016
Royal Troon Golf Open 2016 – Troon Craft, Gifts & Goodies Fayre 14-16 July 2016
We are delighted to provide a platform for savvy crafters to sell their goods to a local and potential international market of 180,000 visitors at our Troon Craft, Gifts & Goodies Fayre, at Troon Old Parish Church Hall on 14-16 July 2016.
Despite some fabulous planned Open Air entertainment, restaurants, local events, world class Whisky shopping at The Jar and great local boutique businesses available for visitors of all ages during the Troon Golf Open Championship 2016. There was still an unfulfilled potential from local home based crafters and businesses.
Hence the opportunity arose to arrange an amazing 3 day event to capture the hearts of the lovely visitors.
The Troon Crafts, Gifts & Goodies Fayre will coincide with 3 of the 4 Play days at Royal Troon Golf Club.
To maximise footfall, the Troon Craft, Gifts & Goodies Fayre will run from 2pm until 8pm each day and will be of interest not only to visitors but also to local customers and those who have attended the Open Play days.
This is an incredible and exciting opportunity for Crafters. We want the standard of stallholders to be high to reflect quality, excellence and to embrace our 'Scottishness', so bring on the Tartan and the stampede of good traditional Scottish Crafters eager to be a par of this event.
You can obtain more information about the group from the Facebook Group
https://www.facebook.com/TroonOpenFayre2016/
Stall & Craft Collective Is A National Website Which Includes A Nationwide Event Listings, Online Craft And Gift Fair, Stallholder Directory, News, Interviews And More.
To Find An Event Click Here
To Find A Stallholder Click Here
To View Our Online Craft & Gift Market 'The Marketplace' Click Here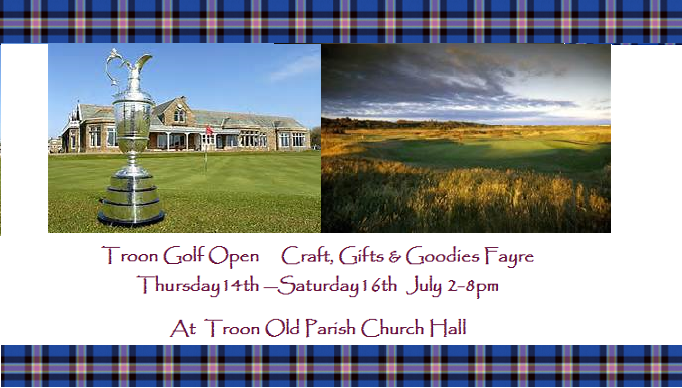 Search In the Spotlight
View By Category
View By Date