Quirky Quintessential Englishness At It's Best! - The Floral Fringe Fair 2015 - West Sussex
The Floral Fair Specialises In Quality Stalls From Sussex, Surrey, Kent And Hampshire And Stallholders Who Have Actually Made What They Sell And So Are Able To Talk With First Hand Knowledge About Their Product
South East England | 13.02.2015
The Floral Fringe Fair 2015 is taking place on the weekend of May 30th and 31st at Knepp Castle, Shipley, Nr Horsham, West Sx RH13 8LJ from 10.30 am to 5pm both days. Please note, this is NOT the bank holiday weekend! The Floral Fringe Fair is quirky and eclectic. It has a wildlife theme but also a vintage twist. The fair specialises in quality stalls from Sussex, Surrey, Kent and Hampshire and stallholders who have actually made what they sell and so are able to talk with first hand knowledge about their product.
Entry is £6.50 per person and children under 14 free. If arriving in a classic or vintage pre-1975 vehicle entry to the Floral Fringe Fair is £5.50 each for the first two occupants. Classic and vintage vehicles will have a specially allocated parking area. If in such a vehicle, dressing in appropriate fashion is especially encouraged…. or even if not arriving in a classic car, dressing in style is welcome! This year we are giving a prize each day for the best-dressed-in-vintage-style visitor.
Why not bring your retro picnic basket and rug and buy all the ingredients for your picnic from the many food stalls at the fair. There are many picnic spots by the beautiful lake. Or eat in our fabulous pop-up tearoom, brought to Knepp by the wonderful Artisan Bakehouse Tea Barn from near Steyning. The fair is becoming something of a foodies favourite.
Well-behaved dogs on leads positively welcomed. There are free-roaming cattle, sheep, ponies, geese and deer which may have young, so leads are essential at all times. We saw some gorgeous pooches come to the fair last year. We have thought of them with a several stalls selling delicious doggy treats for good dogs, plus handmade collars and leads.
Knepp Castle is the subject of an unusual and nationally important re-wilding project and there will be the chance to learn more about this at the fair.
Wildlife safaris have recently been launched on the estate and there may be a chance to sample a mini safari at the fair.
Find out more and also directions to the fair at www.knepp.co.uk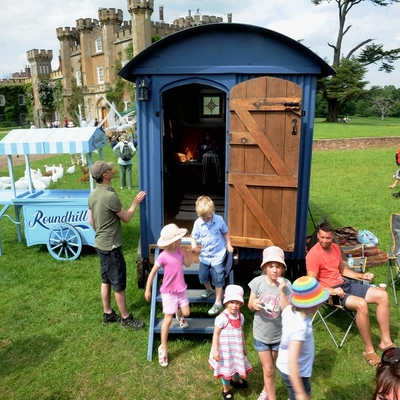 The overall theme of the Floral Fringe Fair is our native wildlife and how to encourage it into the garden but the fair has grown and developed into much more than that. It is about everything that is quintessentially English and quirky, about celebrating the outdoors, gardens and gardening. About talented craftspeople and artists of today as well as the craftspeople of a bygone era, represented by vintage stalls, classic cars and a mini vintage fashion parade!
You can expect over 130 stalls including specialist nurseries, experts on wildlife, honeybees, bumblebees, birds and bats.
Words used by visitors to describe our fair last year were 'Unique, Eclectic, Quirky, Quality, Informative and Friendly'.
There will be music from local musicians, dancing and singing.
The beautiful private gardens at Knepp Castle, designed by Georgia Langton, will be especially open during the fair.
Many Farmer's Market Food stalls will be selling a wide range of carefully chosen food to suit everyone and most dietary requirements have been mindfully taken into consideration.
There will be plenty of places to sit…Then there is The Artisan Bakehouse pop-up vintage tearooms, a local ale tent also serving Pimms, gourmet fishfinger sandwiches with nori batter, a barbecue, an unusual potato stir-fry, freshly baked wood-fired oven pizzas, cooked as you wait vegetarian organic bhajis and pakoras, a maker of Ottolenghi-style salads, quiches, pies, cheeses, breads and smoked meat. Fruit smoothies,coffee, teas, a selection of cakes, strawberries and cream, local icecream, chocolate, marshmallows, fudge and many interesting food stalls from which to buy a picnic to eat by the beautiful lake.
All of our stallholders are independent, small businesses and not many of them have card machine facilities so please remember to bring lots of cash to the fair !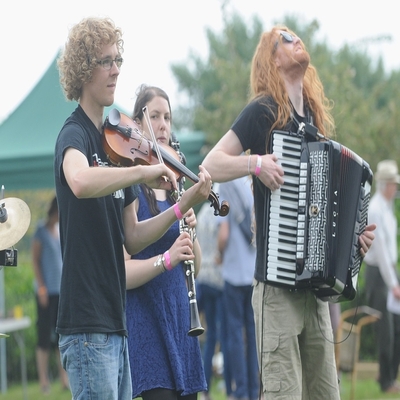 Contact Details For More Information About The Floral Fringe Fair :
Email : jeanjackman@hotmail.com
Mobile : 07939 272443
Website : www.floralfringefair.co.uk
Please like us at www.facebook.com/floralfringefair if you are able!
Twitter @floralfringe
Please click here for our Stall & Craft Collective page
Stall & Craft Collective - Nationwide Event Listings, Online Craft And Gift Fair, Stallholder Directory, News, Interviews And More.
To Find An Event Click Here
To Find A Stallholder Click Here
To View Our Online Craft & Gift Market 'The Marketplace' Click Here
Search In the Spotlight
View By Category
View By Date