Please make Stall & Craft Collective Number One On Your List When Purchasing A gift For Christmas
Online Craft & Gift Market
Nationwide | 05.12.2018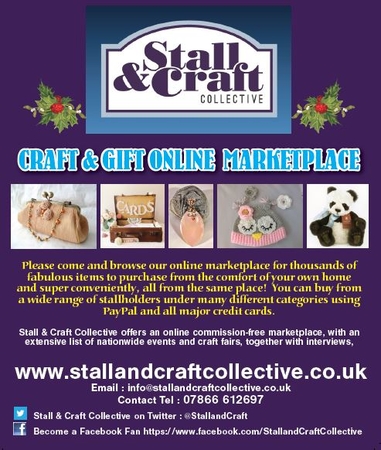 Please make Stall & Craft Collective number one on your list when thinking of purchasing a gift for Christmas.

We have thousands of fabulous items to purchase from the comfort of your own home and super conveniently, all from the same place!

You can buy from a wide range of stallholders under many different categories using PayPal and all major credit cards. Simply click 'Start Your Search' or 'The Marketplace' on the homepage!

We also have a fabulous array of events advertised. When you have a moment please take a look from the perspective of applying for a stall but also from the perspective of having a great day out!
Stall & Craft Collective Is A National Website Which Includes A Nationwide Event Listings, Online Craft And Gift Fair, Stallholder Directory, News, Interviews And More.
To Find An Event Click Here
To Find A Stallholder Click Here
To View Our Online Craft & Gift Market 'The Marketplace' Click Here
Search In the Spotlight
View By Category
View By Date