Norwich Christmas Market 7th Dec - 23rd Dec - Applications From Stallholders Now Open
'With Free Admission, During These Dates, Situated Within Atmospheric Wooden Chalets, You Will Find Christmas Market Stalls Offering A Host Of Wares Made By Craftsmen Plus Beautiful And Unique Gifts'
Norfolk | 21.09.2018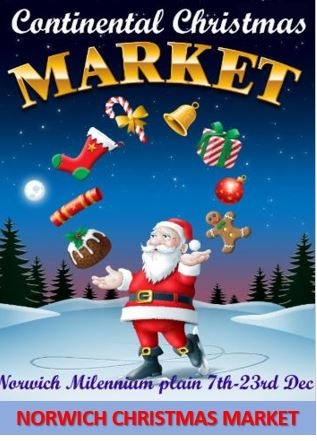 NORWICH CHRISTMAS MARKET
If you are planning something exciting to do during the run up to the Christmas period, then you need to put the dates 7th – 23rd December 2018 in your diary.
Stunning Winter Garden and Tavern
With free admission, during these dates, situated within atmospheric wooden chalets, you will find Christmas market stalls offering a host of wares made by craftsmen plus beautiful and unique gifts. And it doesn't end there. In the background you will hear Christmas music as you wander through the delightful myriad of stalls, experiencing the delicious scents of mulled wine, hot ginger bread, grilled sausages and roasting chestnuts. And if the array of over 40 markets stalls is not enough, there will be a tavern available, along with a covered seating area; a great place to go and sit and catch your breath sipping Gluehwein in-between shopping trips.
The Perfect Location
The market is located in front of the Norwich Forum, Norwich cultural centre, which attracts around 5000 people daily.
St Peter's medieval Church will act as a fitting backdrop, conjuring up memories of Christmas carols, winter church services, all supported by the impressive and special character of Norwich city.
Accessing the market from Gentleman's walk, through the wonderful tunnel of lights, created from thousands of twinkling bulbs, this is the longest Christmas tunnel to be found in Europe.
Forming
the centrepiece of this Norwich Christmas experience, be prepared to be amazed as you stop to take festive selfies!
Norwich Traditional Market
Norwich will play host not only to a wonderful Christmas market but also a long-standing traditional market, also being held in the city centre. You will be truly engulfed by all that's wonderful about this time of year, abundant with the excitement and very special air of the festive season as you explore the sights and sounds of Norwich city centre.
See the tree-lined street of Gentleman's Walk, twinkling with Christmas lights and illuminating the wonderful array of independent shops.
For those looking to combine a memorable shopping experience with a cultural visit, then Norwich is the perfect destination.
Whether you attend for one day or stay overnight in one of the city's hotels or bed and breakfast establishments, you will be in for a real treat.
Check out our video of the location for a taste of what is to come at the first traditional Christmas market in Norwich.
To hire market chalets to trade at this Christmas shopping event, please contact Philippe on 07977567726 or email pb@savoir-fayre.com for an information pack.
Established in 1999, Savoir Fayre operates many speciality markets, food festivals and Christmas Markets across the UK, the bulk of them being in the South of the country. Our aim is to provide visitors with a different shopping experience based on a great selection of stalls along with the professionalism of the individual traders. While we consider every application and every product from crafts to street food, we are particularly looking for stalls that offer something unique and different and traders capable of adding a personal touch to the service they are providing.
Search In the Spotlight
View By Category
View By Date