Memory Bear
Price: £75.00
Product Details
"REMEMBER ME" MEMORY BEAR.
We make a bear totally bespoke to you, made from scratch with either cherished clothing supplied by you, or we can designed a bear to your specification and taste from our material stock. A pouch can be added to your bear, so a small amounts of ash or a special keepsake's can be safely stored inside the bear.
YOU ARE BUYING A SERVICE THE BEAR IN THE PHOTO'S ARE AN EXAMPLE OF WHAT WE DO
The photos attached are of our last order.
A young lady is getting married soon and father has sadly past away. Mum wanted to have Dad represented at her daughters wedding so contact us.
Mum had a pair of dads jeans and a shirt she didn't want to throw out. We turned those cloth's into a beautiful keepsake memory bear for her daughters special day.
The price includes all build work and embroidery on both paws. You tell us what you want, and we will do everything in our power to produce that one of a kind special bear.
Our Remember me bears are made with love and we pride ourselves on our attention to build detail.
Presentation wrapping and P&P are extra
If you would like to buy our Remember me bear please add to basket and check out, we will then email you an order form.
Expected time for completion 4-6 weeks
Delivery & Returns Policy
We will not accept return because you changed your mind This is a bespoke item and will be made to your specification. We will accept returns if there is a fault with your bear
Products for Sale by Sew so Nice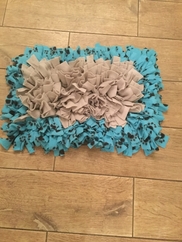 Price: £17.50
Delivery From: £8.50
Delivery & Returns Policy
This Matt is designed to hide your dogs food or treats. He/she will then have to snuffle out the food keeping them occupied and slow down a dog who scoffs their food. The base is made from heavy duty..