Insight Mind Body Spirit Fairs In The North East of England - 'We Would Welcome New Stallholders'
'We Would Welcome New Stallholders To Give An Even Greater Selection To Our Customers So Maybe There Could Be Some Potential New Stallholders That May Care To Contact Me?'
North East England | 29.04.2015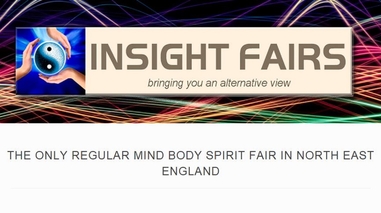 I am Mike Trewhella organiser of Insight Mind Body Spirit Fairs in the North East of England operating under the name Insight Fairs.
I run 9 events per year at three venues. Three at Ravensdene Lodge Hotel Gateshead, three at Hetton Trust Centre Hetton le Hole, North Durham, and three at Hall Garth Hotel Darlington.
Just click here to see the current listing of fairs on Stall & Craft Collective.
Insight Fairs feature a number of good quality psychic readers offering one to one readings, therapists trained in reiki, healing and sports massage and many other disciplines plus stallholders selling a variety of interesting, useful and decorative items throughout the day at each fair. You will find a welcoming atmosphere and lots of guidance and advice on a wide range of subjects relating to mind, body and spirit matters.
I started running these type of events about 15 years ago after I found that I had some slight talent in healing, but I now leave that sort of stuff to the real experts who exhibit at my fairs!
These events are quite a difference from my previous job as a police officer but it has given me the experience to deal with the public. My son Gary assists me at each fair and is a welcoming happy face on the door.
The size of the fairs are usually 26 - 31 tables consisting of 7 psychic readers and the rest made up with therapists and stallholders.
We usually open at 10am, always on a Sunday, and close at 4pm.
Entry is only £2 and we let under 16s in free if accompanied by an adult.
We would welcome new stallholders to give an even greater selection to our customers so maybe there could be some potential new stallholders that may care to contact me?
We have a great website where exhibitors can register plus there is information on various subjects such as tarot, reiki, massage, healing and much more.
How Much Is It For A Psychic Reading Or Taster Treatment?
To have a psychic reading or taster treatment you will pay the relevant exhibitor for their services. Each exhibitor should have a price list displayed on their table. Prices can vary.
Is There An Appointment System To See A Psychic?
Yes. There has to be an organised way for people to sit with one of our psychics otherwise a free-for-all would take place and would result in chaos. We use a simple card system.
Each reader has a small pile of numbered cards on their table. Just take one and that number represents your position in the queue. Keep an eye on what number the psychic is currently reading and when it's your turn, hand the card over to the psychic and take a seat.
Is Anything Free?
Yes. At all our fairs you can find a free workshop. These can include demos of mediumship, healing and hypnosis or talks about hauntings, massage or the Tarot. Each workshop will last about 45 minutes and will not cost you a penny!
There is also lots of advice and leaflets our exhibitors give out free of charge to enlighten and inform.
The aim of the fairs is to bring new ideas and concepts to people in our region and provide taster treatments and talks about all matters Mind Body and Spirit. The North East deserves more in the way of this type of service and I hope my fairs go some way in providing this.
For a great day out come to one of ours fairs.
See you there!
Mike Trewhella
Organiser
Insight Fairs
0191 5366535
www.insightfairs.co.uk
mike@insightfairs.co.uk
Stall & Craft Collective Is A National Website Which Includes A Nationwide Event Listings, Online Craft And Gift Fair, Stallholder Directory, News, Interviews And More.
To Find An Event Click Here
To Find A Stallholder Click Here
To View Our Online Craft & Gift Market 'The Marketplace' Click Here
Search In the Spotlight
View By Category
View By Date