GBT Embroidery - Childrens & Babies Clothing, Soft Toys etc - All Personalised Per Customer Requirements.
'We Offer High Quality Work Wear, Children's Wear, Baby Clothing And Gifts, Soft Toys And Much More. All Items Are Personalised To A High Standard As Per Customer Requirements'
Nationwide | 11.03.2015
GBT Embroidery is a small family concern just 3 years old. We pride ourselves with good customer services and have built a large customer base not only locally but all over the country, we have a successful Facebook page that has allowed us to reach out further and to more people than we could have dreamed.
Where possible we do our own digitising of logos so we don't have to charge a setup fee, this has proved very popular with businesses.
We are constantly expanding our product range so if there is something you want and you can't see it here please contact us. We are always open to new ideas to expand even further. We have hundreds of stock designs or we create something just for you….if you have a particular design in mind please contact us prior to ordering, almost any design can be used on any garment with just a few exceptions…eg rag dolls only have room for names and/or names and dates…No order is too large or too small....try us...we are a friendly bunch :)
For more information please view our Stall & Craft Collective page here.
Our email address is sales@gbtembroidery.com
Mobile 07889475809
Office 0116 2290538
Stall & Craft Collective - Nationwide Event Listings, Online Craft And Gift Fair, Stallholder Directory, News, Interviews And More.
To Find An Event Click Here
To Find A Stallholder Click Here
To View Our Online Craft & Gift Market 'The Marketplace' Click Here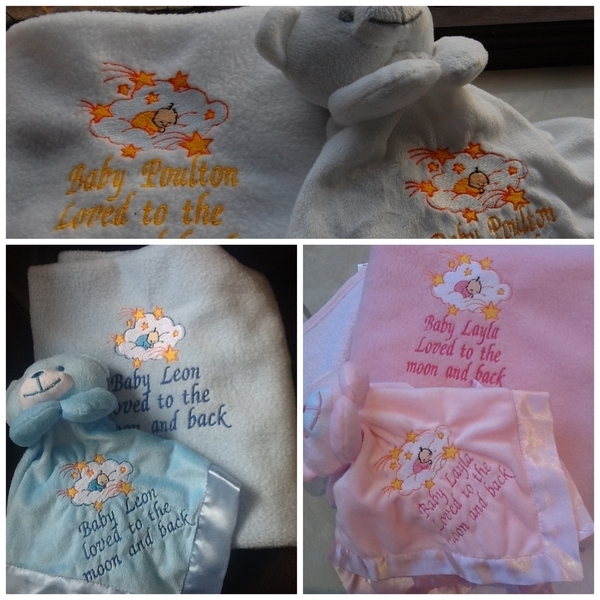 Search In the Spotlight
View By Category
View By Date