Food and Gifts Event on 28-29th October at Tatton Park Cheshire - Countrywide Events
The Food and Gifts Fair, Saturday-Sunday, October 28-29th opens between 10.30 am and 5pm
Cheshire | 05.10.2017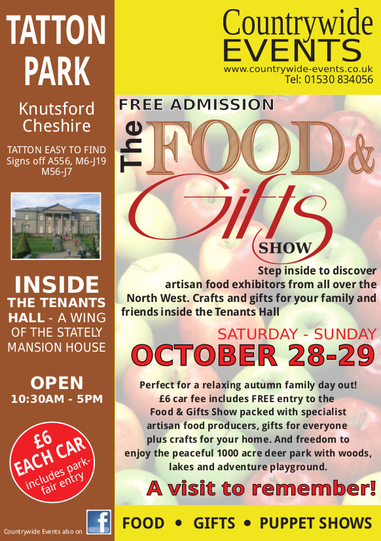 Food and Gifts Event on 28-29th October at Tatton Park Cheshire
One of England's best loved country parks where deer roam, Tatton's Tenants Hall will be packed with mini shops offering food by specialist producers in the North West. Enjoy a day in the countryside with some retail therapy-visit The Food and Gift Show at Tatton Park, near Knutsford, Cheshire, Saturday-Sunday 28-29th October.
Admission will be free to the Show, where visitors can also browse for personal gifts and home decor for the home, plus crafts by talented makers.
Who would believe it? Christmas is looming already, so the Food and Gifts Show gives you the opportunity to make an early start to find that perfect gift for family and friends.
Exhibitors from all over the North West have been selected, so you could find pickles to artwork, pork pies to textiles and home interiors. It is not to be missed.
The organizers, Countrywide Events, believe in offering visitors a lovely day out. That's why admission will be free and there will be no charge, there will also be free puppet shows to keep youngsters amused.
The Food and Gifts Fair, Saturday-Sunday, October 28-29th opens between 10.30 am and 5pm
Entry to the show is free, but there will be the usual Tatton car park fee of £6, which gives visitors freedom to explore Tatton`s miles of peaceful parkland and the adventure playground.
Search In the Spotlight
View By Category
View By Date