FlamingoPHYSIO - Contact Us If You Are Interested In Bringing FlamingoPhysio To Your Event Or Home
Perfect For: Coffee Mornings Book Clubs Retirement Homes Businesses Well-Being Groups Anyone Who Has A Body!
Nationwide | 12.06.2018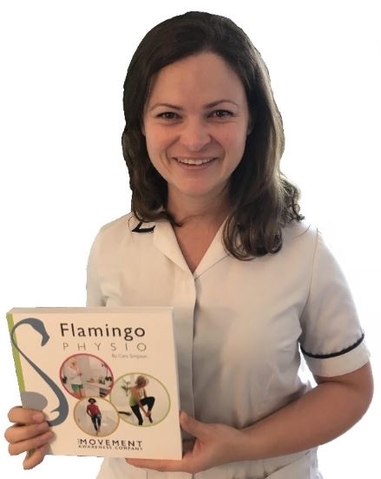 Welcome to FlamingoPHYSIO
The movement awareness company dedicated to pain prevention.​
We all suffer aches & pains in our everyday lives, some of which are persistent and debilitating.
What if there was an easy way to prevent this happening without changing your lifestyle?​
FlamingoPHYSIO is the answer.
Simple, easy to follow advice for your everyday tasks.
No more time consuming exercises!
No more unnecessary trips to the doctors!
The book that will change your life....literally!
Hands up who gets a repetitive pain?
Now hands up who will have short term treatment for the pain, without addressing the actual reason they keep getting it?​
Working for many years as an outpatient physiotherapist in the brilliant NHS, I become increasingly aware that the majority of my caseload was pain not caused by injury, but pain simply brought on by poor movement habits.​
This needs to stop and can be stopped!
Have you ever considered:
How you sit on the sofa whilst watching Ant & Dec?
How you stand when preparing food?
Even your posture when sat on the toilet!!!
The true brilliance of FlamingoPHYSIO is that you don't change anything about the life you lead, you simply learn how to vary your postures as you are leading it.
Let us spread the word on how easy it is to prevent pain!​
Contact us to learn about how FlamingoPHYSIO can inspire & educate you or your community.​
We can also regularly be found at markets in and around the country.
Contact us if you are interested in bringing FlamingoPHYSIO to your area.
Welcome to FlamingoPHYSIO In Your Home
An Informal and fun health talk​
Why not book me to talk to you in the comfort of your own home FOR FREE!
I call this my 'Tupperware party for HEALTH'!​
It works like this.. you invite at least 4 friends to your house, (the more the merrier, they just need to be able to fit in to one room).​
Male, female, younger, older it really doesn't matter.​
I will enlighten you with as much of my 15 year physiotherapy career knowledge as I possibly can, in about 45 minutes!
You will laugh, learn and most importantly practice simple movement changes you will make for the rest of you life!!​
Please ask the people coming to bring cash or card...
I will bring copies of the Flamingo PHYSIO book which contains ALL the information you will learn.
You can choose to buy a copy at a discounted price at the end of the session. ​
I currently cover Exeter, Mid Devon and South Devon regions. Please contact me if you would like me to travel further.​
Contact me to discuss further and to book.
For more information or to book a FlamingoPHYSIO session please call me:​
Search In the Spotlight
View By Category
View By Date