FishFace Of Suffolk - Local Artists & Sellers Of Antiquities Can Rent Space In The Shop
Three Floors Of Painted Furniture, Arts & Crafts, Fabrics/Upholstery And A Coffee/Cake Shop
Suffolk | 06.03.2015
The shop is called Fishface Upholstery which has three floors of Painted Furniture, Arts & Crafts, Fabrics/Upholstery and a Coffee/Cake Shop which offers light lunches and caters for gluten free.
Fishface is also Ipswich's only supplier of chalk paint™ A decorative Paint by Annie Sloan. This is a matt, water-basec and eco-friendly chalk paint that will adhere to almost any surface without priming or sanding down.
We allow local artists, and sellers of antiquities to rent space in the shop albeit for a Month, Quarter or longer. There are a whole number of options from a shelf to a full wall. This has been extremely successful with people booking spaces for set months or all year.
On top of all of this Fishface also offers Workshops in Upholstery and Lampshade making (amongst others).
The Coffee shop has also been extremely popular where you can book spaces (or drop in) and has reached a whole market with the gluten free options, soups and light lunches.Workshops at Fishface
One day Upholstery Workshop - £75
28th March 2015 - NOW Sold Out
25th April 2015 - Now booking.
This one day workshop is perfect if you'd like to learn the basic principles of simple upholstery to enable you to tackle similar projects in your own home. Our workshops are a fun and inspiring way to learn and we ask that each student brings their own drop in seat, or dining chair, to transform during the workshop. We teach modern upholstery techniques which are quick to learn and easy to apply in the home environment. Through the day you will make your own notes and we will give you hand outs which you take home at the end of the day.

What's Included?
All materials needed for the workshop
Choice of fabrics (or bring your own)
Full set of notes
Lunch and refreshments
What to Bring:
Please bring along a 'drop in seat' dining chair or footstool that can be re-upholstered during the workshop. If you would like to attend the workshop, but don't have a suitable project, please let us know and we can source one for you at cost price.
Please bring a notepad and pen, camera and apron or wear old clothes as it can get a little dusty!
Upholstery and Re-upholstery at Fishface
We design and upholster one off pieces for our shop or on commission. We work collaboratively with our clients to create a unique piece of furniture or to sensitively restore a much loved antique.
We have worked for various companies ranging from antique dealers, interior designers, shops, Restaurants as well as private commissions. We take on any project from footstalls, chairs, sofas to large commercial projects, traditional or modern.
Traditional
Developed over centuries, traditional upholstery involves a range of complex techniques rooted in different periods using elements such as springs, fibres, horsehair, cotton felt, buttoning and stitching. This technique involves craftsmanship, precision and a good eye for a perfect and enduring finish.
Modern
Modern upholstery can involve cutting edge techniques and an expansive range of elements, including rubber foam, elastic and synthetic Dacron. The elements come in layers allowing for a faster application.
We believe that furniture plays an important role in people's lives therefore we allow you plenty of time to make any decisions.
How it Works:
EMAIL us a picture of the furniture with details of the measurements, its condition and your requirements.
MEET US at our studio/shops where you can relax with a cappuccino and cake from our in house coffee shop or book us to do a home visit. We are there to discuss your ideas, the colours, the fabrics/styles, how often you use the furniture and their main purpose (to relax, to watch TV, to read a book or to look at).
FABRICS - We show you samples of textiles from our library of fabric books or online. Alternatively we can use any fabric you supply yourself.
PROPOSAL - We propose ideas on how the furniture will be revamped (shape, technique, materials and finishing). We will suggest which materials will be best for upholstery or loose coverings. It's your choice though and we are there to help.
BOOKING - We will then book you in. If you are ordering the fabric from us we ask for this to be paid before we place the fabric order (clients get 10% off the fabric if using us).
CCOMMERCIAL - we usually have a second meeting with you to propose the design and any further ideas. We listen to your suggestions and responses at all stages.
PRODUCTION - At the studio we test the fabric on the furniture and you are welcome to visit the studio at any stage to follow the process. At this point, if we are happy with the fabric, we precede to completion. We will then contact you and organise collection or we can deliver to you. It's then yours to enjoy.
Please visit us at our shop or get in touch and tell us what you'd like to buy, discuss or book. We look forward to hearing from you.
Penny Williams
Fishface
11 The Walk, Ipswich IP1 1EA
Tel. 07816 468830 / shop 01449 710149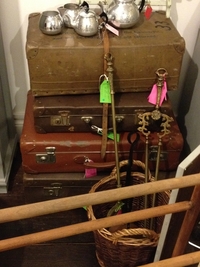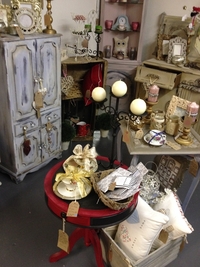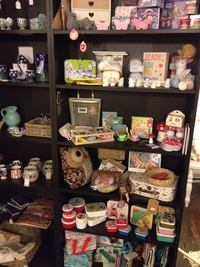 Stall & Craft Collective - Nationwide Event Listings, Online Craft And Gift Fair, Stallholder Directory, News, Interviews And More.
To Find An Event Click Here
To Find A Stallholder Click Here
To View Our Online Craft & Gift Market 'The Marketplace' Click Here
Search In the Spotlight
View By Category
View By Date