Feature on Craftseller Magazine Website
We're on the Home Page!!
Nationwide | 30.06.2014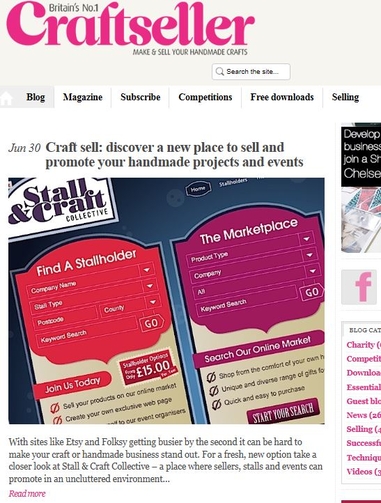 We are delighted to say that we have a major feature on the Home Page of the Craftseller magazine website.

It reads: 'With sites like Etsy and Folksy getting busier by the second it can be hard to make your craft or handmade business stand out. For a fresh, new option take a closer look at Stall & Craft Collective – a place where sellers, stalls and events can promote in an uncluttered environment…
Stall & Craft Collective provides a fabulous opportunity for stallholders to create their own mini website to advertise themselves to event organisers and also to sell a wide range of their items on our online marketplace…
The Packages
There are three packages to choose from, as detailed below.
Pearl Option
The Pearl Option includes the creation of your own mini webpage, 15 items on their online marketplace using up to four different categories in which to list your items, where people can buy using PayPal and all major credit cards, use of your own individual noticeboard where you can advertise sales, promotions & news, ability to link your Facebook/Twitter/Instagram/Pinterest pages, promotion of your attendance at events, opportunity to submit news and interview features, and a private message service.
Sapphire Option
The Sapphire Option includes all of the above but with 25 items in the marketplace in seven different categories.
Diamond Option
The Diamond Option includes all of the above but with 50 items in the marketplace in 15 different categories.
Package prices are £15, £25 and £30 per year respectively.
• Marketplace items can be changed as many times as you wish and upgrades to other packages are available throughout the year.
• Event organisers are able to register and advertise all of their events for free on Stall & Craft Collective and are also able to contact all relevant stallholders registered on the site with all messages going directly to your own individual email address.
• In addition, Stall & Craft Collective offers the opportunity for both stallholders and customers to post event reviews on events they have attended. This provides invaluable information to stallholders and customers about the events that will suit them, as well as providing help and assistance to event organisers when organising future events. All event reviews can be responded to by Event Organisers.
Please email info@stallandcraftcollective.co.uk for any further information and visit them at www.stallandcraftcollective.co.uk to register.'
Just follow the link here to see the full feature.
Stall & Craft Collective Is A National Website Which Includes A Nationwide Event Listings, Online Craft And Gift Fair, Stallholder Directory, News, Interviews And More.
To Find An Event Click Here
To Find A Stallholder Click Here
To View Our Online Craft & Gift Market 'The Marketplace' Click Here
Search In the Spotlight
View By Category
View By Date