Exclusive Discount Code As This September Kirstie Allsopp And Her Team Of Experts Will Be Returning To Hampton Court Palace!
'Feed Your Creative Cravings In The Interactive Skills Workshops, And In The Grand Makes Sessions'
Nationwide | 01.09.2017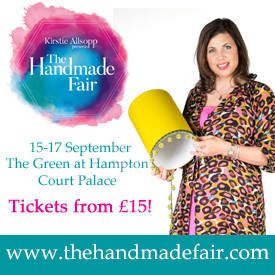 The Handmade Fair - The Green at Hampton Court Palace, Surrey - 15-17 September 2017
This September, Kirstie Allsopp and her team of experts will be returning to The Handmade Fair at The Green at Hampton Court Palace!

Kirstie will host a fantasticline-up in the Super Theatre including interior's specialist and businesswoman Sophie Conran, colour aficionado and creator of Chalk Paint™ Annie Sloan and the return of the Mollie Makes Mash Ups – you'll be learning from the best in the business!
Feed your creative cravings in the interactive Skills Workshops, and in the Grand Makes sessions. From calligraphy to wire working and everything in-between, get ready to come away feeling inspired with a new bundle of skills and knowledge.

On top of all this, the Shopping Village is full to the brim with over 350 stallholders. Beautiful handmade products of the highest quality, brought to you by hand-picked and incredibly talented makers, plus any tools and materials you might need to complete your own creative endeavours – you'll find it all! With an assortment of quirky caterers you won't be short of delicious food and drink options either.
It's the ultimate creative day out!
Tickets start at just £15 and are available now at http://www.thehandmadefair.com/hampton-court, and we've got a special offer for you – quote COLLECTIVE29 when booking to save £3 on Full Experience tickets!
*Saving applies to full price adult tickets and cannot be combined with other offers. Offer ends 23.59 on 14th September 2017. Booking fees apply.
To find out more about our fairs, sign up to the newsletter to be first to receive the latest announcements and ticket offers!
Stall & Craft Collective Is A National Website Which Includes A Nationwide Event Listings, Online Craft And Gift Fair, Stallholder Directory, News, Interviews And More.
To Find An Event Click Here
To Find A Stallholder Click Here
To View Our Online Craft & Gift Market 'The Marketplace' Click Here
Search In the Spotlight
View By Category
View By Date