EverSew
Contact: Alice Codrington
Counties: Oxfordshire
Contact Number: 07446193896
Product Types
Baby and Children Gifts and Services
Company Overview
EverSew is a small company that produces beautiful handmade children's teepees. The company was formed after the birth of our little boy, Bertie, who inspired us to get creative and make products that he could enjoy.
Products & Services
Teepee Tents are so in right now, inspiring experiential play ideas and play activities for kids. If you dont have one, your kids need one.
So why are teepees so popular for children?
A teepee will keep your kids entertained for hours, there purpose and use growing as your kids imagination develops. A teepee play tent serves many purposes; they provide kids with that ˜good old cubby hole feeling; they are a place for kids to play (and hide), you can lie in the teepee with your children and read stories; and its great when you have kids over to play, indoors, outdoors, on picnics, on the beach and basically anywhere being so quick to set up.
A teepee offers the natural choice for them to acquire lots of skills from a very young age. There is no better way than buying a teepee to provide for good, wholesome, and endless fun.
¢ A choice of high quality and sturdy personalised children's teepees from Eversew are designed to last for years, made from 100% cotton.
¢ Decorated with themed silhouette motifs in vibrant colour schemes and framed by three corresponding banners of bunting.
¢ Optional personalised kids names or favourite inscriptions can be added onto the teepee. Please send us a message with the letters of the name and or inscription detail to receive a quote for the additional cost.
¢ Easily constructed by slipping the beech poles into five pockets between the panels, before spreading out. The poles being simply coupled and un-coupled in half for easy storage and carriage.
¢ Size approximately 1.4m high, the base is 1.2m by 1.2m.
Company Profile
Both myself and my partner have come from a background of working with children both teaching and coaching in schools and sports clubs. Seeing the importance of play and imaginative exploration made us determined to provide plenty of opportunities for our own son to get creative. With a summer baby we were quickly looking for a solution to provide shade for him in the garden and decided that a Teepee would be a rather fun idea. We spent the weekend getting creative and finished up with something we were rather proud of! As Bertie has grown, his Teepee has become so many different things from a den and reading corner to snuggling tent and hide out. It's been so lovely to see him enjoying his Teepee and we hope that many other little ones will be able to do the same!
EverSew are attending:
Not attending any listed events.
Products for Sale by EverSew
Handmade Children's Teepee - 'Circus'
Price: £96.00
Delivery: £5.20
Delivery & Returns Policy
Run away into the bright and colourful magic of Eversews Circus Teepee to explore the fascination with the derring do and timeless tom foolery of clowning around. Motifs: Ringmaster, Big Top, Juggling Clown, Lion, Elephant on podium and Sea Lion tossing..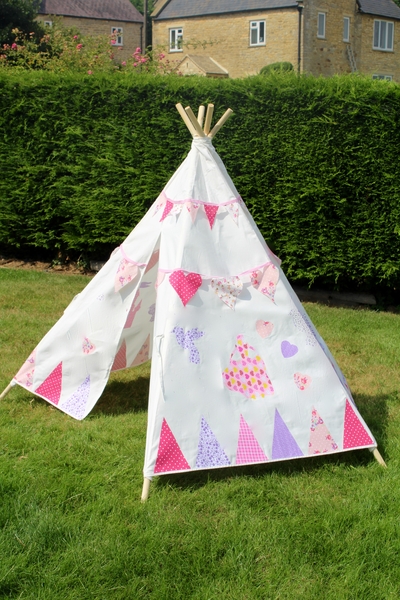 Handmade Children's Teepee - 'Princess'
Price: £96.00
Delivery: £5.20
Delivery & Returns Policy
Every wannabe princess will be transported into their fairy tale realm in this Eversews animated dream world. The creative passion for play that awaits is mirrored by the vibrant heart shaped bunting flags that waft in the wind above the time-honoured..