Dog Day Afternoon - St Marylebone Parish Church Grounds, London - Dress as Smartly as your Dog!
'Back By Public Demand Cabbages And Frocks Lifestyle Market In Marylebone Village Is Putting On Another Special Dog Day Afternoon.
Greater London | 26.02.2016
DOG DAY AFTERNOON
St Marylebone Parish Church Grounds
Marylebone High Street
W1U 5BA, (opp. Conran Shop)
SAT 16 APRIL 2016 11am-5pm W1U 5BA
Competitions 2.30pm onwards
Free Admission
Competition Judges:
Chamois Rose-Wood of the Independent
Rob Alleyne of Dog Owners club and seen on BBC3 "Dog Borstal"
The Good Boy Dog School display will be on at 12noon & 2pm
Back by public demand Cabbages and Frocks lifestyle market in Marylebone village is putting on another special DOG DAY AFTERNOON.
One of the highlight of the day will be the Good Boy Dog School headed by Dima and his doggy dance partner George, who will be presenting new and exciting routines at 12 noon and 2pm.
Previously Dima and George have been seen on Britain's Got talent. George, who is a wow with the ladies, upstaged lady Gaga on Comic relief.
A winning duo, not to be missed!
Competition times: 2.30pm running order below, each takes approx. 10 mins
"A bit of ruff" for mixed breeds
Best dog trick
Waggy tail
Miniatures and toy breeds
Matching pairs
New kid on the Block - Best Puppy
Oldies but goodies
Best in show
Dress as Smartly as your Dog
On the doggy side, look out for the latest in canine couture and doggy accessories.
We are supporting The Mayhew Animal Home. By purchasing their gifts on offer it will help improve animal welfare.
The Wandering bun will be making a delicious stew for the pouches and a free range burger for you. Sample Wharf Road Bakery's macaroons with flavours such as pistachio, green tea and rose. Fashion and food stalls will also be there in abundance on the 16th of April, including the vintage stall with used Hermes, Gucci handbags and accessories.
Don't miss out, you may go home with a rosette and purchases for you and your pet. Either way we guarantee you a fun filled day!
Cabbages & Frocks is open every Saturday 11-5pm - 0207 794 1636 / 07956 282 532
St Marylebone Parish Church grounds
Marylebone High Street W1U 5BA, (opp. Conran Shop)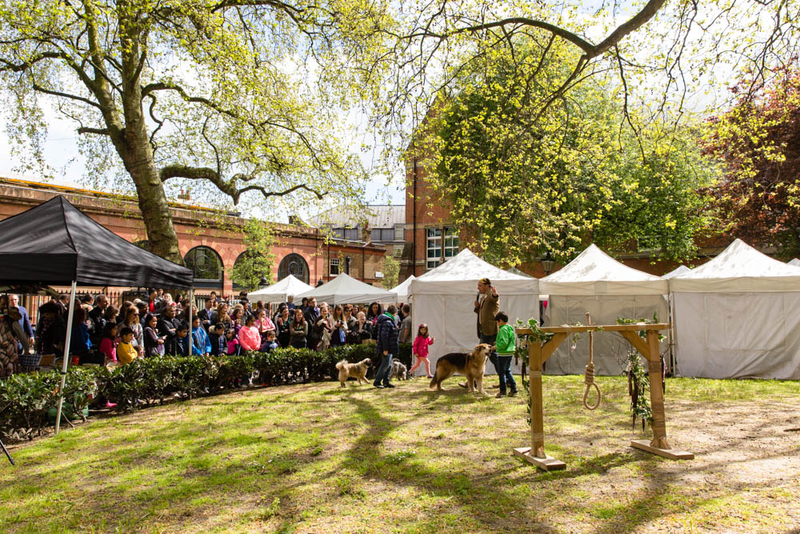 Stall & Craft Collective Is A National Website Which Includes A Nationwide Event Listings, Online Craft And Gift Fair, Stallholder Directory, News, Interviews And More.
To Find An Event Click Here
To Find A Stallholder Click Here
To View Our Online Craft & Gift Market 'The Marketplace' Click Here
Search In the Spotlight
View By Category
View By Date