Craft and Gift Fair At Bellis Brothers Garden Centre Wrexham 2nd - 4th August
'We Constantly Strive To Find The Best Venues And Provide The Best Advertising To Give You The Best Chance Possible Of Becoming A Regular And Successful Part Of Our Team'
Wrexham | 18.06.2019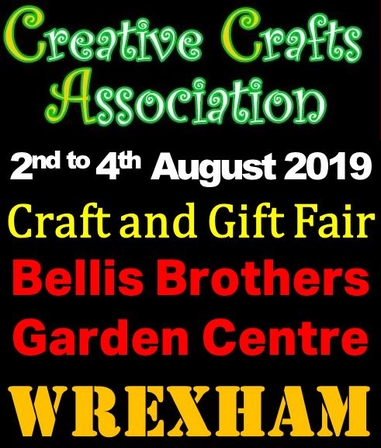 Craft and Gift Fair At Bellis Brothers Garden Centre Wrexham
A great event for the Creative Crafts Association.
It's a very busy centre and it should be a great event!
02/08/2019 to 04/082019 - 10.00 am Until 4.30 pm Daily
Bellis Brothers Garden Centre
Wrexham Road Farm, Wrexham Rd
Holt
Wrexham
LL13 9YU
We are organising nearly fifty events in 2019 and as you can see on the
EVENTS PAGE
of our website we have a wide variety of venues.
This variety ensures good coverage of our area and helps to keep our regular customers interested and give them lots of reasons to visit us.
Whilst we try not to be too demanding we have to apply certain rules and regulations to ensure that all events are as successful as possible and are safe for everyone whether they are exhibiting or visiting as a customer
Though our prices are lower than any other comparable organisers our standards are not.
We constantly strive to find the best venues and provide the best advertising to give you the best chance possible of becoming a regular and successful part of our team.
To build a regular customer base we have to make sure that our venues 'feel good'and that the customers have a wide variety of unusual and well made goods to buy at sensible prices.
All the stalls have to be neat, tidy, well presented and preferably well lit.
First impressions are so important.
The appearance of your stall, the price and quality of your goods and your own approach and attitude to the customer are the things that make the sale.
An attractive stall, good eye contact and a pleasant smile to your prospective customer and you are halfway to a sale.
There are so many places where customers can go to shop that crafts people have to work very hard to compete.
Most major shopping areas are bland, almost identical and sometimes with poor or indifferent service.
But what they do have is a massive advertising budget which we cannot compete with.
Thankfully there are still lots of people who prefer individually rather than mass produced goods.
They are the people who want to be different and who will go out of their way to visit our fairs.
We need exhibitors like you who will go out of your way to fill our events with items for sale which are not available on the High Street.
Our type of trading has always been hard and the past few years have been more difficult than most but we are all still here and if we continue to provide good venues with lots of unique items for sale then we will succeed.
Here's to 2019 and may it bring success to us all.
If you require more information or would like to register an interest in having a stall at this event, then please feel free to contact us.

Search In the Spotlight
View By Category
View By Date