Clock Tower Classic Car Crafts & Collectables Show Portsmouth
'We're looking for Art, Craft, Design, Antiques and Vintage stallholders for this years motorshow if you'd like a stall at this years show then please contact us
Hampshire | 19.07.2017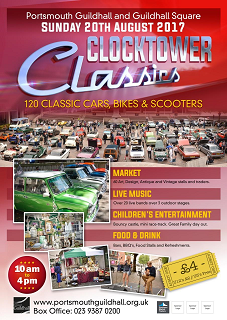 Clocktower Classics is back for 2017. Attracting an audience of over 5,500 last year, this annual classic car show, located in Guildhall Square Portsmouth, promises to be bigger than ever. Featuring 90+ vehicles on display, live music, market stalls, refreshments, childrens entertainment and lots more, this is a great family day out.
Site open for public at 10am with all ages welcome!
We're looking for

Art, Craft, Design, Antiques and Vintage stallholders

for this years motorshow if you'd like a stall at this years show. please contact us.
marie@southernmarkettraders.co.uk

Search In the Spotlight
View By Category
View By Date