Christmas Fair at Himley Hall Dudley West Midlands 18th/19th November 2017 Organised By Countryside Events
'Will You Be One Of Fifty To Find A Golden Ticket To Spend Five Pounds With Th Exhibitor Of Your Choice?'
West Midlands | 16.10.2017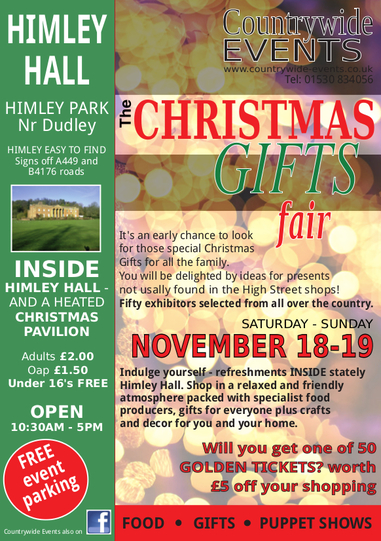 Saturday 18th November & Sunday 19th November
It`s back! …. the Christmas Gifts Fair at Himley Hall near Dudley, such a popular event for early gift hunting for family and friends.
Exhibitors from all over the Midlands are getting ready for the fair, Saturday and Sunday November 18th-19th 2017.
With free parking a short stroll away through Himley Park, the fair is being staged inside the ground floor state rooms of the hall and a carpeted and heated Christmas marquee on the lawn.
Sixty mini shops will be packed with, food, crafts, art, home decor, fashion and so much more.
You can tickle your taste buds and browse for that perfect present to be treasured.
Unlike High Street shopping, the Himley Hall gifts fair has a relaxed atmosphere where friendly exhibitors just love to pause and have a chat. And when you have had enough retail therapy, indulge yourself with cakes and a refreshing cuppa in the art-deco style Himley tea room.
There will be free puppet shows in the courtyard, with four or five different fairy tales each day.
Will you be one of fifty to find a Golden ticket to spend £5 with an exhibitor of your choice?
The Christmas Gifts Fair will be open between 10-30am and 5pm. Adults £2; concessions £1-50 and under 16 free with Free car parking.
Search In the Spotlight
View By Category
View By Date