Calling All Event Organisers! - We Would Be Delighted If You Were To Advertise Your 2015 Events With Us
Registration Literally Only Takes A Couple Of Minutes And It's 100% Free
Nationwide | 27.04.2015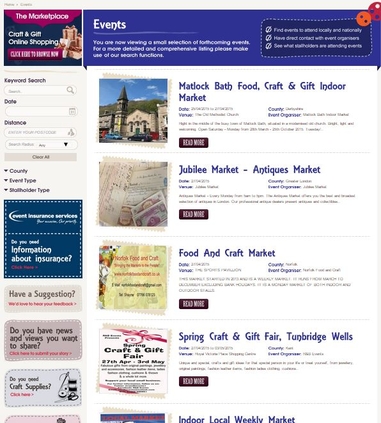 Calling All Event Organisers!
Stall & Craft Collective would be delighted if you were to advertise your 2015 events with us.
Registration literally only takes a couple of minutes and it's 100% free.
With thousands of unique visitors to our website each week we are confident your events will generate the kind of publicity they deserve.
As well as being able to give informative narratives in connection with each event, you are able to display multiple promotional images, website & social media links along with a host of other useful marketing material.
We also actively engage in social media shares and would welcome news stories concerning your events to publish on our 'In the Spotlight' page on our website.
Just click on the link http://www.stallandcraftcollective.co.uk/register_event_organiser to join the thousands of event organisers who currently advertise with us.
If you have any queries just contact us using the details below as we would be more than happy to assist with any questions you may have.
Thank You
Stall & Craft Collective Is A National Website Which Includes A Nationwide Event Listings, Online Craft And Gift Fair, Stallholder Directory, News, Interviews And More.
To Find An Event Click Here
To Find A Stallholder Click Here
To View Our Online Craft & Gift Market 'The Marketplace' Click Here
Search In the Spotlight
View By Category
View By Date