Book Art Design Software (BADS) - ' You'll Be Making Incredible Pieces Of Book Art Before You Know It'
'Discover The New Way To Create The Most Beautiful Book Art In The World In Seconds!'
Nationwide | 24.04.2015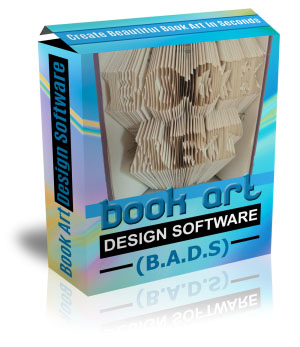 Hi, my name is Deborah and I'm here to talk to you about an obsession of mine.
Ever since I can remember I've always wanted to express myself through craft. This started simply because I enjoy creating things, and crafting allowed me to have that way of expressing myself.
I have tried everything over the years but I've never truly found something that has taken up my time and energy pretty much all day, every day (in a good way).
Then I found book art, and everything changed.
The newest, most exciting craft around.
Book art has not been here for long. However, it began to grow in popularity almost overnight. People quickly latched onto how you can produce something truly remarkable using an old book.
Then the whole thing blew up, with people taking beautiful and even rare books and turning them into something incredible. This has now become something of a challenge for many, as they seek to take a book and create even better art out of the pages.
What Does It Involve?
Well, you take a book and fold certain pages in that book in certain ways, to create a shape or series of shapes that present a 3D effect when the book is turned on its side and opened up.
Sounds simple? Well the initial concept is. But getting it right first time is incredibly important.
And that's where the problem lies. If you don't get it right two things happen:
Firstly, you ruin a perfectly good book.
Secondly, you become incredibly frustrated and give up. This means you will never achieve the satisfaction of knowing what it's like to create a truly beautiful piece of book art. I've been there too. I've started projects in the past with book art that just descended into messy chaos. It's depressing, and you feel like a failure, to say the least.
And then I created a piece of software that changed everything…
Book Art Design Software
This software is unique, in that it manages to take any shape you want to use in book art and then helps you plot out, exactly, where to make your folds.
That's right; this software takes all the hard work out of the equation, and tells you where to make your changes to a book so that you get:
• Book Art That TRULY AMAZES People!
• Book Art That You Can SELL FOR PROFIT!
You may not want to sell the book art, but if you do, this is certainly more than good enough to qualify.
How Does It Work?
You simply work with the software by providing it with information on the design you are going to use, and the number of leaves in the book.
Then the software does the rest of the work for you, by plotting out the changes you make to the book step by step.
It's unique, and it's something I am very proud to offer to the world.
The Benefits
No more struggling with book art projects you just can't get started right
Wow your friends with book art they could never complete
Make every piece of book art a unique piece
No mistakes, no 're-folding'
An automated process
Saleable book art at your fingertips
You'll be making incredible pieces of book art before you know it
No more frustrating times, and the chance to be part of a cultural phenomenon with great pieces of book art, every time.
Click HereTo Purchase The Software
The software comes with full photographic instructions and continued support via my Facebook group, Book Art Design by Bramble Crafts.
Compatible with book Windows and Mac operating systems (for Mac, please download the free program 'Wine Bottle' for it to work).
**Please Note That It Isn't Supported On Tablets Yet**
I look forward to hearing from you, and helping you make truly breath-taking book art.
Deborah Street
Stall & Craft Collective Is A National Website Which Includes A Nationwide Event Listings, Online Craft And Gift Fair, Stallholder Directory, News, Interviews And More.
To Find An Event Click Here
To Find A Stallholder Click Here
To View Our Online Craft & Gift Market 'The Marketplace' Click Here
Search In the Spotlight
View By Category
View By Date