Big Order Secured By Stall & Craft Collective Stallholder Kazelle Krafts
Success Story for Stall & Craft Collective Stallholder
Nationwide | 08.01.2015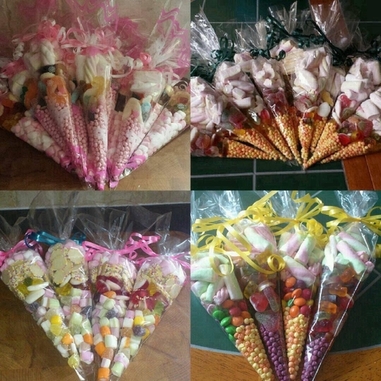 Congratulations to our Stall & Craft Collective Stallholder Helen Aitken of Kazelle Krafts, who today received the news she had been waiting for. It was confirmed today that Helen has successfully won an order for a massive 500 sweet cones from Nottingham Building Society for an event they are hosting in February. Helen had been approached via Stall & Craft Collective and today got the news she had been waiting for via email.
The sweet cones are to be made in a 'Rio Brazil' theme using green yellow & blue cones & ribbons and each sweet cone is to be personalised with either wording or a company logo.
Helen was gracious enough to email us to thank us for our help and stated 'I was anxious when I thought about opening the email message but so glad I did. I want to thank you for putting Stall & Craft Collective together as I'd never get a chance like this otherwise'
We would like to thank Helen for her kind words and wish her every success for the future and as Helen said to us 'you never know what's around the corner so you have to keep going and stay postive'.
If you like to view Helen's Kazelle Krafts Stallholder page on Stall & Craft Collective just click here
Stall & Craft Collective Is A National Website Which Includes A Nationwide Event Listings, Online Craft And Gift Fair, Stallholder Directory, News, Interviews And More.
To Find An Event Click Here
To Find A Stallholder Click Here
To View Our Online Craft & Gift Market 'The Marketplace' Click Here
Search In the Spotlight
View By Category
View By Date