Baston In The Blitz - Annual 1940's Weekend In Lincolnshire - August 1st & 2nd 2015
'The Intention Of Baston In The Blitz Is To Commemorate And Honour The Men And Women In The Services And On The Home Front Who So Bravely Served Our Country Throughout WW2'
Lincolnshire | 12.02.2015
We have revamped 'Baston in the Blitz' event for August 1st & 2nd 2015 as we have now extended the event to cover an entire weekend and have created even more space for stallholders than previously.
Last year our stallholders did very well from the excellent attendance by the public. This year we not only have many more attractions and entertainment but we are also embarking on a far more extensive advertising campaign which will result in a greatly-increased attendance.
Although we have allowed for more stallholders we are still keen for stalls to be in keeping with the 1940's theme of this event. Our stallholders typically offer vintage clothing, vintage home-wares, vintage sewing and knitting patterns, WW2-themed memorabilia, and similar items.
'Baston in the Blitz is an organisation committed to staging an annual 1940's weekend event plus a series of 1940's dances throughout the year. The intention of the annual event is to commemorate and honour the men and women in the services and on the home front who so bravely served our country throughout WW2'
What To Wear
It is absolutely not compulsory for visitors to wear 1940s costume to Baston in the Blitz.

However, if you want to get into the true spirit of our event, you may decide that you would like to more actively participate - dressing up 1940-style is fun!
If you would like some help or advice with your 1940s costume for our event we suggest you visit the Forties Clothing Buyer's Guide
How To Find Us
Baston is situated on the A15 midway between Market Deeping and Bourne and is within easy reach of the A1 north/south and A14 east/west.
The event will be clearly signposted along the A15 between Market Deeping and Bourne.
When you reach the crossroads at Baston, follow the event signs off the A15, into Main Street then into the main event car park at the end of Thetford Avenue.
Visitors travelling from Market Deeping are best advised to use the A1175 Spalding Road and enter Baston from its eastern end via Cross Road and the Outgang Road to avoid congestion and delays at the A15/Main Street crossroads.
The pedestrian entrances are located on Main Street and from the main event car park.
There are regular bus services to Baston from Market Deeping, Bourne
and Peterborough (check timings at www.delainebuses.com/timetables.htm)
The bus stops are located on the A15 about 100 yards from the event entrance
Baston has two very good public houses, the White Horse and the Baskervilles Hotel, both with excellent restaurants and within easy walking distance of the event location.
The Baskervilles Hotel can also provide first class B&B accommodation.
The village shop is open daily and is located opposite the event site on the corner of Church Street.
Stallholder Information
If any stallholder or living history group wants to set-up on Friday 31st July prior to the weekend event, they are welcome to do so. If anyone wishes to stay on-site overnight, particularly if attending our 1940's Dance, we can accommodate a limited number of campervans and caravans. Priority will be given to members of the living history groups exhibiting at the event.
Alternatively, there is an excellent local caravan park within a five minute drive from the event site: www.windmill-farm-caravan-park.com.
They can be contacted on 01775 670154 or lolwalsh1959@hotmail.co.uk for further details.
For local hotel accommodation, we recommend the Towngate Inn in nearby Market Deeping. The Towngate is a motel-style establishment offering double or twin en-suite accommodation at very competitive rates and is only a five minute drive from Baston. They can be contacted on 01778 346875.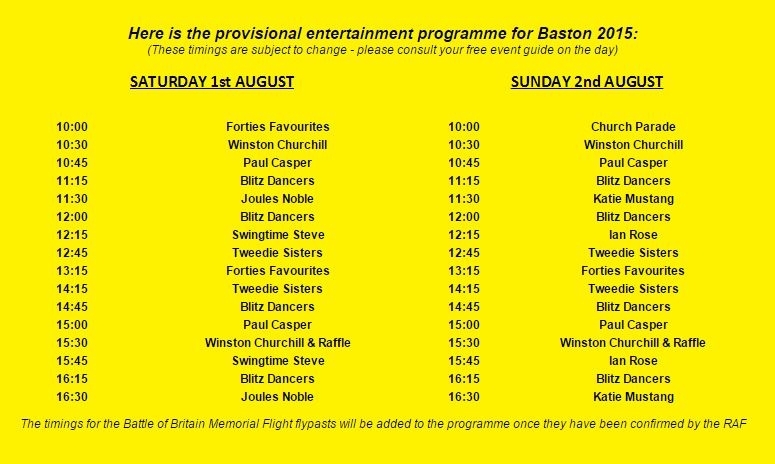 Full further details of our featured entertainment and attractions, plus downloadable flyers and stallholder booking forms, are available on our event website at www.bastonblitz.org.
To view 'Baston in the Blitz' on Stall & Craft Collective click here
Stall & Craft Collective - Nationwide Event Listings, Online Craft And Gift Fair, Stallholder Directory, News, Interviews And More.
To Find An Event Click Here
To Find A Stallholder Click Here
To View Our Online Craft & Gift Market 'The Marketplace' Click Here
Search In the Spotlight
View By Category
View By Date