AMAZING OPPORTUNITY for Christmas Markets @ NEXT
Nationwide | 21.10.2018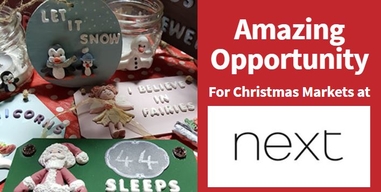 AMAZING OPPORTUNITY for Christmas Markets @ NEXT
We are looking for a wide range of individuals, small businesses & crafters to join us at our Christmas Markets with the retailer NEXT.
Products to include cards & gift wrap, candles, jewellery, fair-trade toys & gifts, hampers and gifts for pets, cushions, wall art, wood turners, crocheted products, scarves and handbags, children's duvets & pram covers, clocks and coasters, books, skincare, ceramics, aprons & oven gloves, glass artists and more.
We are ideally looking for crafters and those who make bespoke & individual products. Unsure about your products then please ask us.
The event is held inside at various locations within the stores, see website for more information about the stores.
Store locations are as follows:-


Sheffield - Meadowhall Home


Manchester – Arndale Centre


Manchester - Handforth Dean


Saturday 24th & Sunday 25th November 2018.


Saturday 1st & Sunday 2nd December 2018.


Saturday 24th November to Sunday 2nd December 2018.


Saturday and Sunday £200.


Both weekends @ one store £300.


Saturday 24th November to Sunday 2nd December – 9 days @ one store £450.
•

Event is inside a NEXT store.
•

In each location/store there will be between 6 & 10 Market Stalls.
•

Location within the store is to be confirmed.
•

Space available is 2 metres x 2 metres, Market Stalls and tables will be provided.
•

Vendors are required to book for a minimum of one weekend at any one location.
•

Vendors who choose both weekends will be taken in preference over vendors only willing to do one weekend.
•

Footfall for the weekends is not currently available but envisage it would be thousands.
•

We are unable to offer space to suppliers of food or drink products.
•

Set up will either be on the Friday night after the shop closes or Saturday morning before it opens.
•

In addition to the Christmas Markets there are plans to have free giveaways such as mulled wine or mince pies and then to add to the festive atmosphere some choirs.
•

Electric is available in each Market Stall.
•

The store Managers will be able to assist you with directions on arrival and for any on site queries.
•

Free Wi-Fi is available as is 4G.
•

Products can be left overnight (at your own risk), the stores are guarded 24/7.
•

A copy of your Public Liability Insurance Certificate is required, if you don't have this don't worry we can recommend a company who can help.
If you would like to find out more please email or telephone.
If you know of anyone else who might be interested in this opportunity please let me know or ask them to get in touch.
carol@owleventsandmarketing.co.uk
Warwick Enterprise Park, Wellesbourne, Warwick CV35 9EF
*Owl Events and Marketing is an independent business based in the heart of the Midlands – and are on hand to help stall holders and crafters every step of the way.
Home to delightful Craft Fayres, regular outdoor Markets, exciting Children's Markets and enchanting Christmas Markets we have over 30 years' experience in events and marketing.
Here is what some of our stall holders say:-
"I love my last event with you and would love to do another at Christmas".
"The Hatton markets are my bread and butter; I seriously believe I wouldn't have a business without them".
"I have attended two events organised by Carol and on both occasions I have found her organisation and attention to detail to be outstanding".
We have worked with various venues including hotels, tourist attractions and garden centres and have a wealth of experience in organising a variety of events.

Search In the Spotlight
View By Category
View By Date