Woodland Pinafore
Price: £18.00
Product Details
WOODLAND PINAFORE AGE 12 months

Beautiful supersoft needlecord pinafore in forest green with cute woodland critters and quirky owl buttons to match.

Dresses can be made in your choice of fabric £18.00 +P&P


Delivery & Returns Policy
Terms and Conditions
Policy: Your statutory rights covered by the consumer protection law are not affected when purchasing from Violette Amelia
Ordering: Your order can be made by sending a private message. Facebook does not always notify me on comments left on photographs of products. Your choice of fabric must be stated when placing your order. Full payment will be taken when you place your order. You may not change your order once the making process has begun.
Payment: We accept immediate payment via PayPal, credit or debit card. It is possible to pay using credit or debit card via PayPal without having a PayPal account. We will also accept bank transfer or cheque, please contact us directly to arrange this. Orders will commence once payment has been cleared.
Confirmation of Order: Your order will be confirmed at which time you have the opportunity to change your order if desired. We will contact you if there are any issues with your order. You will be shown clear photographs of your completed order. If you are happy, the order will then be dispatched.
Delivery: We aim to get your item made and posted within the shortest turnaround time possible without effecting our high standard and quality of work. We will give you an estimated turnaround time. We will contact you when your item has been dispatched. All products are securely packaged and sent out first class via Royal Mail. We do not accept responsibility for any damage that may ocour in transit.
Returns: If the goods purchased are faulty or you are not satisfied we will either replace or refund your item. Should you decide you no longer require your goods within 14 days of purchase, please return, in original condition, and you will be refunded. Please allow 7 working days from the date your return goods arrive back at our headquarters.
Legal Aspects: Any contract for your purchase of goods and services from Violette Amelia is governed by the law of England and Wales, and you agree that such contract will be subject to the nonexclusive jurisdiction of the England and Wales courts.
Products for Sale by Violette Amelia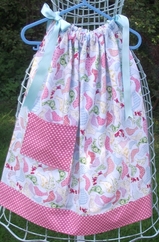 Price: £19.99
Delivery From: £4.00
Delivery & Returns Policy
Gorgeous dress, beautifully made in 100% designer fabric. A scrumptious mix of pastels, perfect for summer and beyond. A fab patch pocket and polka dot border compliment this design. One of my favourite..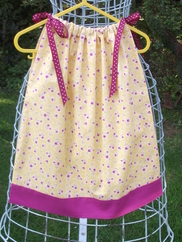 Price: £16.99
Delivery From: £4.00
Delivery & Returns Policy
Lovely Sunny Yellow and Plumb sun dress, age 12 months,approx. 15" wide X 16" in length. Beautiful cotton fabric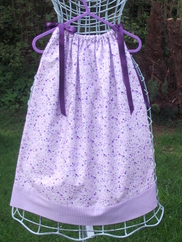 Price: £19.99
Delivery From: £4.00
Delivery & Returns Policy
Lovely Lilac Floral dress. 100% cotton. Age 24 months. Approx 21" wide x 18" long. All dresses have a generous hem which can be let down as your little one grows which means her dress will..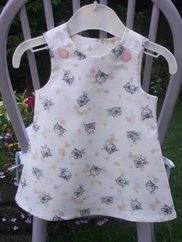 Price: £16.00
Delivery From: £4.00
Delivery & Returns Policy
Gorgeous little kitty pinafore dress. A lovely light weight cotton perfect for warmer weather. Adorned with cute kitties and pretty bows in shades of pink, lemon and pale green. Such a cute outfit!