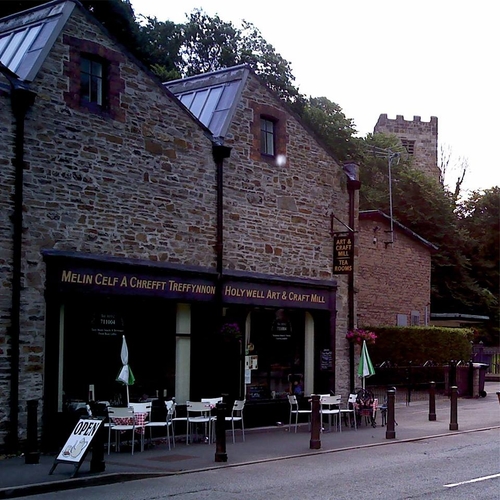 Ideal Stallholders for this event
Art & Design
Baby and Children Gifts and Services
Bath & Body
Beauty
Books
Candles and Wax Melts
Cards & Gift Wrap
Ceramics and Pottery
Chocolate & Confectionary
Clothing and Shoes
Craft Supplies
Cross Stitch & Tapestry
Decopatch
Embroidery
Fabric Items
Floristry & Floral Arrangements
Garden & Outdoors
Gifts
Glass & Mosaic
Hair Accessories & Millinery
Handbags and Accessories
Handmade & Handcrafted
Home Decor
Jams, Chutney & Preserves
Jewellery
Knitting and Crochet
Leather
Mythical and Fantasy
Needle Felt & Textile Art
Papercraft
Personalised & Customised Gifts
Polymer & Fimo Clay
Preloved
Recycled, Ethical, Fair Trade & Organic
Seasonal/Special Occasion
Shabby Chic
Sock Animals, Teddy Bears & Dolls
Spiritual Gifts
Stationery & Invitations
Toys and Games
Wedding

Weekend Showcase
Date:
15/04/2017 to 27/08/2017
Venue:
Holywell Art and Craft Mill
Address:
Greenfield Street
Holywell
Flintshire
CH8 7PN

| | |
| --- | --- |
| Event Organiser: | Pottery Pastimes |
| Organiser Contact: | Rachael Stanley |
| Contact Number: | 07443869153 |
| Number of Stalls: | 1 |
Customer Arrival Time: 11:00
Customer Departure Time: 16:00
Admission Price: £0.00
Stallholder Arrival Time: 10:00
Stallholder Departure Time: 16:00
Cost of Stall: £2
Event Type
Craft Fairs
Event Details
WEEKEND SHOWCASE FOR INDIVIDUAL STALLHOLDERS
Single pitch on Saturdays and Sundays throughout the Spring and Summer season between the hours of 11 and 4.
(The only exceptions are woodcraft items, cakes and food but confectionery and preserves are acceptable.)
This is being offered at a very low price as part of the promotion of Holywell Art and Craft Mill to improve its position in the crafts market but also because it enables stallholders to book multiple dates without having to pay a hefty deposit each time.
Your stall will be situated in the foyer near a busy cafe which has to be accessed by customers in order to visit the restroom, pottery and back entrance.
You are free to set up your stall between the hours of 10 and 4; however, the best hours are 12 - 2.
You will need to bring your own chair and table/stall. Maximum pitch size is 200 x 75 cm (not including your seat).
No commission will be taken off sales.
Leaflets will be distributed in the tearooms advertising your forthcoming presence. These will be on the tables and posters will be put around the craft centre.
BOOKING LINK:
Car Parking Information
In addition to free council parking on the other side of the road, there is customer parking behind the craft centre.