Weaving Baskets
Price: £15.00
Product Details
Weaving paper buskets,used decoupage technic and akrylic paint and varnish.
Please state which basket you would like by emailing me using the message board following your purchase.
If you have a commision I would be happy to hear from you.
Thank You
Delivery & Returns Policy
Cancellation Right as required by law
Products for Sale by AO art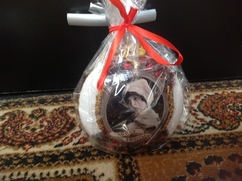 Price: £8.50
Delivery From: £3.35
Delivery & Returns Policy
The balls are made using decoupage technics along with glue and varnish . Some of the balls are made by utilising different colours and materials.