Valentines Day Sweet Cones
Price: £2.00
Product Details
Valentines sweet cones; 190g

mini marshmallows, pink foam shrimp, heart marshmallow, harribo heart throbs, chocolate jazzle hearts and raspberry millions.
Delivery & Returns Policy
Delivery will be either royal mail second class or my hermes depending on quantity ordered. Returns within 14 days.
Products for Sale by Sugar Sweet Moments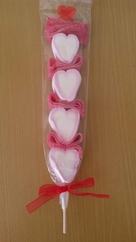 Price: £1.00
Delivery From: £2.80
Delivery & Returns Policy
Valentines marshmallow skewer with strawberry fizzy belts and a harribo heartthrob.