Urban Christmas Cards
Price: £1.50
Product Details
5 inch by 5 inch Christmas card on recycled matte paper with envelope. Christmas Greeting on the front; the inside is left blank for your own message.
A series of four cards depicting redecorated Christmas trees set out on a roadside for recycling after the holiday season. The background has been turned to black and white to make the baubles shine out.
A couple of years ago I gave some Christmas Trees left out for recycling after Christmas a temporary new life. In a celebration of renewal I redecorated and photographed them for this series of greetings cards.
Delivery & Returns Policy
Contact seller
Products for Sale by Stephen Taylor Photography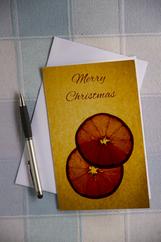 Price: £1.50
Delivery & Returns Policy
Christmas Card 5 inches (12cm) by 7 inches (18cm) with envelope Three different designs. The inside has been left blank for your own personal message.