Swimming fish sculpture
Price: £10.00
Product Details
Inspired by recycling discarded items, I have made these freestanding sculptures from old aluminium cans. Suspended on wire, these cheerful fish appear to float and catch the light at different angles. Mounted on a small stone from the beach to give it a true coastal feel.
Looks great in the bathroom or anywhere else that you fancy.
Approximately 15cm tall.
Delivery & Returns Policy
Items will be packaged and delivered by Royal Mail.
Returns valid for 7 days of receipt.
Products for Sale by Artwork by Angie Cummings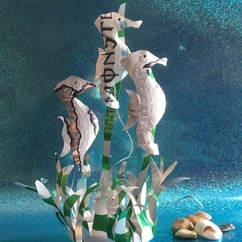 Price: £15.00
Delivery From: £2.00
Delivery & Returns Policy
A pleasing and unique piece of artwork created from recycled aluminium drinks cans. Three cute seahorses floating above a bed of seaweed. Stands approximately 15cm tall. Light is reflected making the..