Seahorses sculpture
Price: £15.00
Product Details
A pleasing and unique piece of artwork created from recycled aluminium drinks cans. Three cute seahorses floating above a bed of seaweed. Stands approximately 15cm tall. Light is reflected making the images change colour in different light.
An unusual and original gift for yourself or someone special. Each sculpture is hand crafted and individual. Bring a feel of the sea into your home.
Delivery & Returns Policy
Item will be dispatched within 7 days of order.
Products for Sale by Artwork by Angie Cummings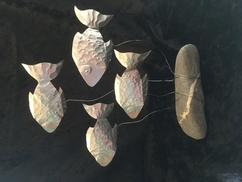 Price: £10.00
Delivery From: £2.00
Delivery & Returns Policy
Inspired by recycling discarded items, I have made these freestanding sculptures from old aluminium cans. Suspended on wire, these cheerful fish appear to float and catch the light at different angles..