Romper, Bolero and Hat Crochet Set
Price: £15.00
Product Details
Lovely crochet set for tiny baby consisting of romper, bolero and hat in soft 4ply yarn. Sizes available are 31cm and 36cm.

Can also be made using double knit yarn in 41 and 46cm sizes (request prices).

Colours to suit your requirement.
Delivery & Returns Policy
Delivery approx 2-4 weeks from receipt of 50% deposit. Balance payable before goods are dispatched. All goods are sent by courier to your Paypal address and must be signed for. Should an item be faulty please email for returns address. If the problem cannot be rectified a replacement or refund will be offered.
Bespoke/made to order items are non-returnable.
Products for Sale by 2nannys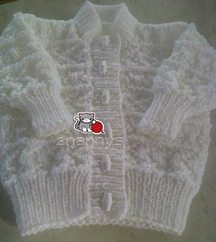 Price: £17.50
Delivery From: £3.50
Delivery & Returns Policy
Knitted cardigan in a modern design worked in white acrylic aran yarn and fastened with white plastic toggles. Available in sizes 46cm, 51-56cm and 61cm and can be made in any colour of aran yarn.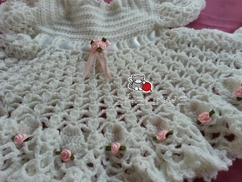 Price: £20.00
Delivery From: £3.50
Delivery & Returns Policy
Beautiful crochet dress and shoes in soft 4ply yarn trimmed with pale pink roses and ribbon. Available in 31cm and 36cm. Can also be made in double knit yarn in sizes 41cm and 46cm. Will..