Polaroid Play 3d Pen Filament Pack - 20 Colours
Price: £19.99
Product Details
Contains 20 x 15g (5m) PLA Filament packs in 20 fantastic colours, for use in the Polaroid Play 3D Pen or any suitable PLA 3D Pen
Each box contains 20 x 15g (5m) PLA plastic filament packs in 20 fantastic colours
All vacuum packed to keep them in perfect condition until ready to use
Each 15g pack lasts approximately half an hour of continuous drawing
PLA plastic is an environmentally friendly bio-compostable plastic made from corn starch
Each 15g pack contains standard 1.75mm diameter material
Box includes 4 fantastic fluorescent colours for creating models that glow under UV light
The Polaroid Play 3D filaments can be used with ANY suitable 3D PLA Pen and designed for use in the Polaroid Play 3D Pen
Polaroid Play 3D Pen filament box (20 colours):
20 fantastic colours, all vacuum packed to keep them in perfect condition until ready to use.
Each 15g pack lasts approximately half an hour of continuous drawing.
PLA plastic is an environmentally friendly bio-compostable plastic made from corn starch.
Each 15g pack contains standard 1.75mm diameter material.
Box includes 4 fantastic fluorescent colours for creating models that glow under UV light.
The Polaroid Play 3D filaments can be used with ANY suitable 3D PLA Pen and designed for use in the Polaroid Play 3D Pen.
For larger projects and for regularly used colours try the 1kg Reel of PLA available here: Polaroid Universal Premium PLA Filament
Delivery & Returns Policy
You will be so pleased with your new Polaroid Play 3D Pen however if you have any issues please see www.amaze3d.co.uk for details or email info@amaze3d.co.uk
Products for Sale by Amaze3D UK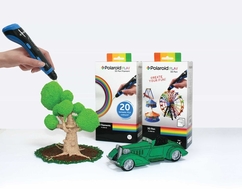 Price: £29.99
Delivery From: £3.99
Delivery & Returns Policy
The Polaroid Play 3D pen is a fun product, ideal for creating your own unique gifts, homeware, jewellery, models, toys¦ the possibilities are endless. Create your fun by building your own freehand 3D..