Pink Felted Bag With Fiesta Soft Trim
Price: £14.99
Product Details
A beautiful dusky pink felted bag with a textured fiesta coloured soft trim.

This design is what we call a bucket bag with a secure handle that has been actually felted into the bag. This bag is just the right size for essentials and is lovely and light to carry.

The bag is 100% wool that has been hand knitted, which can take up to 4 days for big bags, and then wet felted, shaped and dried. This whole process transforms each bag from a loose knitted fabric into a dense, strong and tactile felt. All of our felted bags are 100% unique as each bag is individually handmade. The felting process makes these bags very strong and virtually impossible to stretch.

All of our felted bags are easy to care for and can be brushed clean or if very dirty they can be hand washed in cool water with a small amount of detergent and then dried flat.

This dusky pink bag measures 28cm at the top tapering to 22cm wide at the bottom and 29cm tall when measured flat. The handles measure 63cm in length and works as a carry bag.

Continue shopping https://www.etsy.com/uk/shop/Specialgiftsonline

Take a look at our website for more special gifts! www.specialgiftsonline.co.uk


Delivery & Returns Policy
Delivery
Items are ready to ship within 1-2 working days. All postage within the UK is £2.80, postage within the EU is £6.50 and postage to Non EU is £9.00.
Returns
We understand that from time to time you may wish to return a product to us. We have created this 14 day returns policy to enable you to return products to us in appropriate circumstances.
Where you have no other legal right to return a product and receive a refund or exchange, then you will nonetheless be entitled to return a product to us where:
(a) we receive the returned product within 14 days following the date of purchase of the product
(b) the returned product is unused, in its original packaging, with any seal or shrink-wrap intact, with any labels still attached and otherwise in a condition enabling us to sell the product as new
Returns procedure
In order to take advantage of your rights under this returns policy, you must:
email or telephone Special Gifts Online within 7 days of receipt of the goods, to advise that you wish to take advantage of this policy
Exclusions
The following kinds of products may not be returned under this policy:
(a) food, drink and any other products liable to deteriorate within the period set out above
Refunds
We will give you a refund for the full price of any product properly returned by you in accordance with the terms of this returns policy - excluding the original delivery charges and the costs of returning the product to us
Improper returns
Where you return a product in contravention of this policy (and where you do not have any other legal right to return the product):
(a) we will not refund or exchange the product
(b) we may retain the returned product until you pay to us such additional amount as we may charge for re-delivery of the returned product
Products for Sale by Special Gifts Online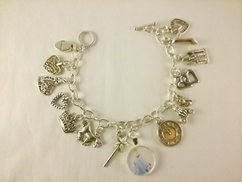 Price: £9.99
Delivery From: £3.50
Delivery & Returns Policy
'' A dream is a wish your heart makes When you're fast asleep,'' - Cinderella Such a lovely film and a lovely charm bracelet to match! A silver plated chain charm bracelet with 14 Cinderella themed..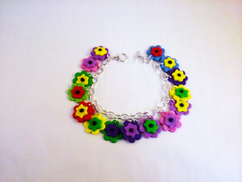 Price: £5.99
Delivery From: £3.50
Delivery & Returns Policy
Flower Power! A striking, loaded flower charm bracelet with handmade fimo charms and an easy to use toggle clasp. 100% handmade this lovely fimo flower bracelet adds some glam and fun with its colourful..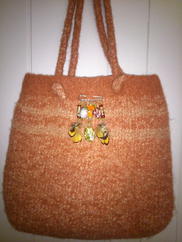 Price: £19.99
Delivery From: £3.50
Delivery & Returns Policy
A beautiful ginger tweed-effect felted bag with two discreet stripes and a toning kilt pin. Perfect as a gift, hand-felted and fabulous. This handbag is 100% wool that has been hand knitted, which can..