Paper bridal bouquet with origami flowers
Price: £50.00
Product Details
A handmade bridal bouquet made from a paper of your choosing to best reflect your personality on your special day!
This paper flower bouquet is made from 15 origami kusudama flowers. The flowers are individually handmade, with each flower measuring approximately 10cm across. A pearl style bead or vintage button is in the center of each flower. You can personalise this bouquet by choosing the type of paper you would like it to be made from. Choices include
Book pages-which come from romantic or classic novels
Vintage maps
Vintage sheet music
Vintage comic book pages
Vintage cook book pages
Vintage graphic novel pages
Vintage school text books
If there is something that is particularly special to you-for example a map of a certain area or a speific piece of music-it it possible that I can source that for you to make your bouquet even more special. Send me a message and I will let you know how I can help!
The flower stems of the bouquet are wrapped in vintage lace or coloured ribbon to give a pretty and comfortable handle. If there is a certain colour of ribbon you would like then please let me know.
Having a paper flower bouquet means your wedding bouquet will last forever and will make a treasured keepsake for years to come.
Each bridal bouquet is custom made to order and will be completed within 3 weeks of ordering. Bouquets are sent via Royal Mail Signed For for UK addresses. This bouquet is also available as a junior bridesmaid bouquet, adult bridesmaid bouquet and groom buttonhole to allow you to have a co-coordinated look for your wedding day.
Thank you for visiting The Recycled Wedding Company.
Delivery & Returns Policy
Custom made bridal bouquets will be dispatched within 3 weeks of ordering. Custom made bridal bouquets are not eligable for returns or refunds.
Orders can be cancelled within 24 hours of ordering.
Products for Sale by The Recycled Wedding Company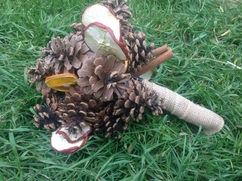 Price: £36.00
Delivery From: £5.00
Delivery & Returns Policy
This handmade bridal bouquet is full of rustic charm and would look lovely at a woodland, rustic or autumn themed wedding. This bridal bouquet is handmade from pine cones, dried orange slices, dried..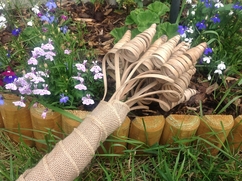 Price: £16.00
Delivery From: £5.00
Delivery & Returns Policy
An effortlessly simple and rustic overarm bouquet, perfect for a woodland themed or autumunal wedding! This handmade overarm bouquet is made from twenty natural cane cones which are wrapped in a hessian..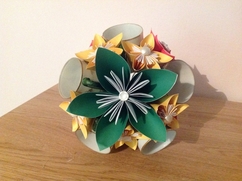 Price: £72.00
Delivery From: £5.00
Delivery & Returns Policy
It's time for tea with this quirky and alternative bridal bouquet! These bouquets are handmade to order and can be customised to fit in with your special day. The bouquet is made from vintage teacups..