Natural Goats Milk Soap with Oatmeal Layer
Price: £7.50
Product Details
Our Natural Goats Milk Soap is a delightfully whimsical and luxuriously creamy layered soap.
Mild and gentle with an oatmeal exfoliator base which makes this soap a multipurpose luxury.
The pretty soap is shaped like a cake slice and decorated with a small shaped rose. Delicately scented with lavender essential oils.
The packaging is a smart black box with butterfly closure and ribbon.
Almost too pretty to use, this soap is an ideal gift for someone who appreciates fine quality and enjoys bathing luxury.
Height:6cm
Length:11cm
Width:7.5cm
Delivery & Returns Policy
UK Delivery only. Delivery will be made either by courier or Royal Mail, and a signature will be required from the recipient.
We hope you are happy with your purchase, but if you do need to return an item then please notify us via email to info@auradecordesigns.com and we will contact you with further details.
Unless item is faulty, Returns postage cost is for the account of the purchaser. Original delivery charge is not refundable.
Only unused items in a re-saleable condition will be accepted for refunds.
Products for Sale by AuraDecor Designs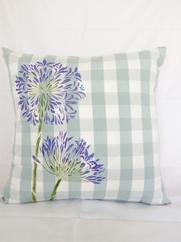 Price: £32.00
Delivery From: £2.00
Delivery & Returns Policy
Hand Made and Hand Stencilled Purple Agapanthus Design Cushion on 55% linen, 45% cotton woven Blue Gingham Check Fabric. Great for bringing summer into your conservatory, kitchen or even a bedroom...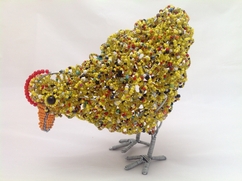 Price: £45.00
Delivery From: £2.00
Delivery & Returns Policy
A fun and quirky handmade beaded wire craft Hen, taking a British icon and giving it a delightfully zany South African twist Each hen is painstakingly shaped and then beaded by hand, creating a truly..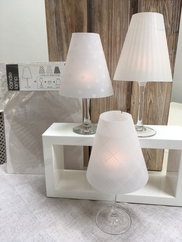 Price: £10.00
Delivery From: £2.00
Delivery & Returns Policy
A simple idea to create a cosy warm glow at a special dinner party, this set of Tea Light shades is a trio of patterned covers for stemmed wine glasses. It has multiple uses when considering table ideas..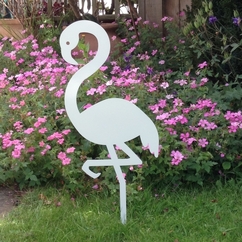 Price: £23.00
Delivery From: £2.00
Delivery & Returns Policy
A graceful white metal flamingo garden ornament standing at over 60cm tall, will look beautiful in so many settings, for example - Use these metal lawn ornaments to demarcate the pathway for guests at..